Computer Love: Digital Art in West Hollywood and in conjunction with the exhibition EZTV: Video Transfer, this panel discussion will consider the history of computer art in Southern California and its relationship to digital media and large-scale projection art today. 6:30pm Artist's Reception followed by the
 7:30pm Panel in the West Hollywood Library's City Council Chambers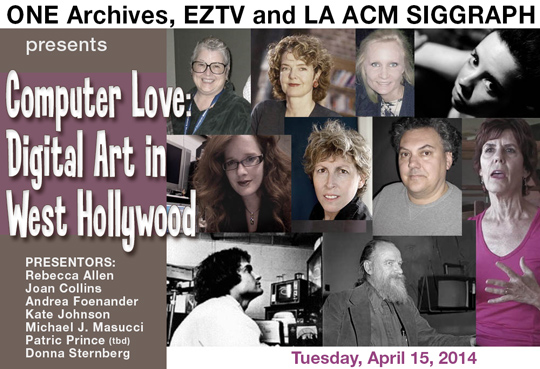 Description
A Panel discussion will take place on Tuesday, April 15th at West Hollywood Library; 6:30pm Artist's Reception followed by the
 7:30pm Panel in the City Council Chambers.
The Tuesday PANEL PRESENTERs include:
Rebecca Allen – ARTIST AND TECHNOLOGY PIONEER
Joan Collins – DIGITAL PROJECTION ARTIST
Andrea Foenander – ROYAL COLLEGE OF ART SCHOLAR
Kate Johnson – DIGITAL PROJECTION ARTIST
Michael J. Masucci – ARTIST / CURATOR
Patric Prince (TBD) – ART HISTORIAN / CURATOR
Donna Sternberg – CHOREOGRAPHER
A subsequent public exhibition on May 31, sponsored by the City of West Hollywood is called, ONE Night: EZTV, LA ACM SIGGRAPH and Digital Art in West Hollywood. This Exhibition will celebrate the collaborations in West Hollywood throughout the 1980's which helped contribute, locally, to the popularization of the appreciation of the various aspects of digital art; One that is now emulated internationally, and considered culturally significant.
Schedule
6:30-7:30   Reception
7:30-9:30   Discussion
Registration
Admission is free. All will be admitted free of charge. The event is free to the public and will benefit from promotional visibility by the mainstream press, the contemporary art world, as well as the local government Arts Commission.
You will still be able join LA ACM SIGGRAPH at the registration table on-site, and pay the $40 annual membership fee. The chapter accepts checks, cash, or credit cards (American Express, MasterCard or Visa only) for all dues or fees. This membership will get you in free to (10) ten more LA ACM SIGGRAPH events, and we feed you.
Special Thanks
Generous support provided by the City of West Hollywood: Peter Mays, Andrew Campbell, and Michael Che; ONE Archives Gallery & Museum: David Evans Frantz; EZTV: Kate Johnson, Michael J. Masucci; Los Angeles ACM SIGGRAPH: Joan Collins, Sheri Ki Sun Burnham, Harry Kim and all of the LA ACM SIGGRAPH Executive Council, and all the April volunteers.