Upcoming Events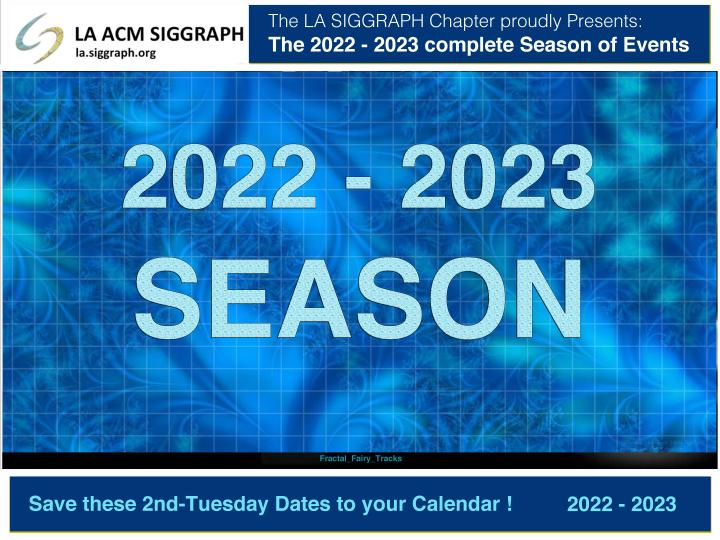 2022 - 2023    SEASON EVENT LIST -    September 2022, thru June 2023
DIGITAL ART: Los Angeles ACM SIGGRAPH x EZTV/CyberSpace Gallery
The SECOND of FOUR [Annual Artshows]  The 1990's
September 13, 2022
 - - - - - - -
Blender V3.3 release
September 24, 2022
 - - - - - - -
Behind the Pixel - Past & Present Innovators: A Fireside Chat with a CGI Thought Leader
October, 2022
 - - - - - - -
Virtual Production for Live Performance
November 8, 2022
 - - - - - - -
AI project with Theoretical quantum physicists' presentation
December 13, 2022
 - - - - - - -
Immersed in Digital Archiving and Restoration
January, 2023
 - - - - - - -
Computer Graphics for Wildfire Mapping
February 14, 2023
 - - - - - - -
CAREERS event with Kathleen Milnes
March 14, 2023
 - - - - - - -
The Future of AI in Arts & Entertainment
11-Apr-23
 - - - - - - -
JPL panel presentation @ JPL
May 9, 2023
 - - - - - - -
 The State of the Metaverse 2023
June 13, 2023
- - - - - - -
MSG Sphere Studio Tour - Burbank
June, 2023
- - - - - - - - - - - - - - - - - - - - -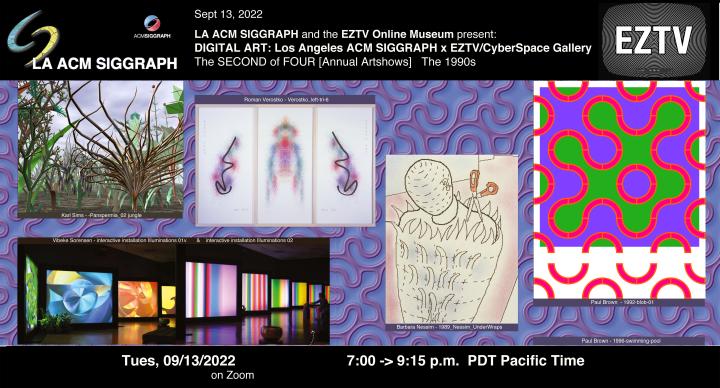 LA ACM SIGGRAPH and the EZTV Online Museum present:
DIGITAL ART: Los Angeles ACM SIGGRAPH x EZTV/CyberSpace Gallery
The SECOND of FOUR [Annual Artshows]  The 1990's
Tuesday, Sept 13, 2022
Presenters include: Paul Brown, Barbara Nessim, Karl Sims, Vibeke Sorensen, Roman Verostko, in conversation with Michael J. Masucci.
This second of four annual artshows will take place at 7PM PDT /10 PM EST, on Tuesday, September 13, 2022. It will focus on digital art in the 1990's.
Curated by Michael J. Masucci, Joan Collins, Victor Acevedo
Save the Date!   You will need to register for free with ZOOM REGISTRATION to attend this Webinar.  We will get you registration info when it gets created.