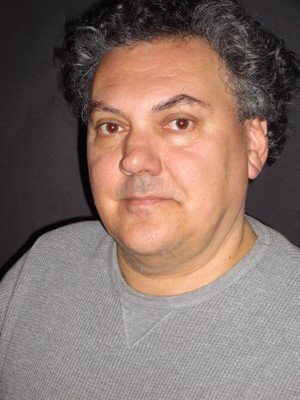 EZTV Online Museum
ARTIST/CURATOR EZTV Online Museum
Michael J. Masucci is an award-winning media producer, video-artist, writer, musician, curator and educator.  His collaborative work has been exhibited nationally and internationally in places such as the Museum of Modern Art (NY), Institute of Contemporary Art (London), American Film Institute (LA), on television (BRAVO, BBC, PBS) and in festivals, galleries, conferences and universities.
Masucci and his work has been profiled in a variety of media including on PBS, the Discovery Channel, LA Times, Variety, Artweek and the LA Weekly.  His original video art has been critically acclaimed in a variety of print media and is in collections including the Institute of Contemporary Art in London.
His writings have appeared in the SIGGRAPH Journal, Computer Graphics Magazine, the Independent Film & Video Monthly, and in several books.  As a founding member and Artistic Director of EZTV, (acknowledged as among the first independent space dedicated to video), Masucci also co-created (with art historian/curator Patric Prince), CyberSpace Gallery, one of the world's first art galleries dedicated to digital art.   His early video work was included in the Getty Museum's recent exhibition "Pacific Standard Time" for which he also organized a series of live events, screenings and panel discussions.  Currently Masucci is collaborating with David Frantz, curator at ONE Gallery at USC Libraries to archive and preserve EZTV's early media works.
Masucci is also an inventor and has created a number of projection platforms specific to his dance and theatrical collaborations, some of which have been presented at SIGGRAPH.   He has taught at Otis College of Art & Design and lectured in places like Parsons School of Design (NYC), UCLA, Caltech, USC, School of Visual Arts (NYC), the American Film Institute, Claremont University, and University of Helsinki. He has presented at conferences such as Digital Hollywood, DV Expo, SIGGRAPH, ShowBiz Expo, the Global Entertainment & Media Summit and Internet World.  Projects for which he has been a principal collaborator have been awarded grants from the NEA, Institute of Contemporary Art (London), City of West Hollywood, Changchun Studios, China, Finnish Foundation for the Visual Arts and has received a Cine Golden Eagle Award.
He currently serves as a City of Santa Monica Arts Commissioner, as well as serving on the boards for the Santa Monica Arts Foundation, and Santa Monica Public Art Committee. He is a frequent contributor to the arts-scholar blog Practice Based Re/Search.
"Fly-By" (2014, premiere) is a multimedia dance collaboration choreographed and performed by "Donna Sternberg & Dancers", in collaboration with "EZTV", "Vanessa Blaylock & Co's avatar performers in The Hague, composer *David Raiklin* and physicists  *Prof. Gregory Tarle*of the University of Michigan and *Dr. Brian Nord* of FermiLab. Supported in part by the CCI ARC grant and U of Michigan MCubed Grant.