Visual effects from X-MEN FIRST CLASS will be presented.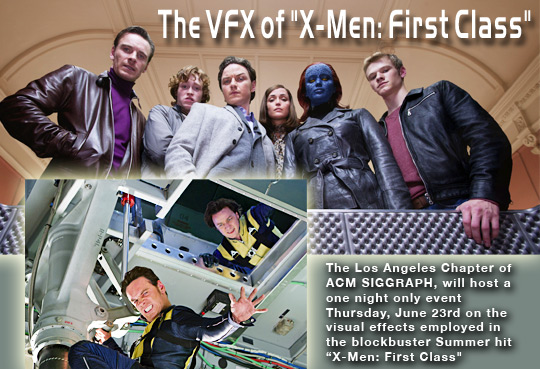 Description
IMPORTANT: This event will be held on the 3rd Thursday!!
The Los Angeles Chapter of ACM SIGGRAPH, will host a one night only event Thursday, June 23h on the visual effects employed in the blockbuster Summer hit "X-Men: First Class".
Denise Davis, the films VFX Producer will moderate a panel consisting of key contributors from Digital Domain, Luma Pictures and Rhythm & Hues. Joining this group for the closing Q & A will be VFX Supervisor John Dykstra.
IMPORTANT NOTE: Food and Water will be provided at no charge. Barnsdall will run a Cash Bar, with Beer, Wine and Soft Drinks. ALL I.D's will be checked for purchases of alcohol!!
Schedule
6:30 - 7:00 PM   Social Hour & Hors d'oeuvres, Priority Admittance Members Only!
7:00 - 7:30 PM   Social Hour & Hors d'oeuves, all admitted.
7:30 - 9:30 PM   Presentations
Registration
All LA ACM SIGGRAPH will be admitted free of charge. Non-members of LA ACM SIGGRAPH are admitted for $20.00. New LA ACM SIGGRAPH members who sign up on-site, and pay the $40 annual membership fee (checks or cash only), do not have to pay the $20 admission fee.
Special Thanks
No all people involved in the production.