Rhythm & Hues animators show how to give personality to the Chipmunks in "Alvin2: The Squeakquel". You must RSVP to attend - click to see details.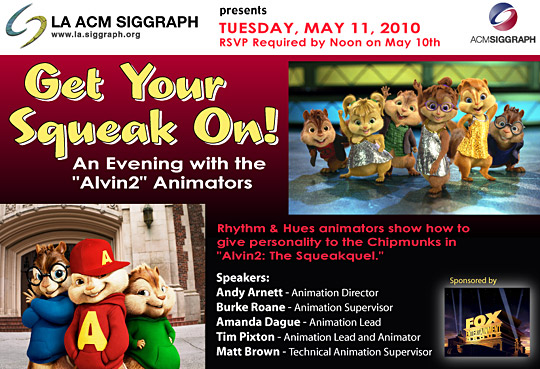 Description
The expert animators at Rhythm & Hues will talk about animating six chipmunks who talk, sing, and dance. Learn what it takes to orchestrate a Hollywood talent show, give furry faces believable expressions and act like a superstar (even though you are small).
You MUST RSVP for this event AND BRING YOUR ID to get onto the Fox Studios Lot. No RSVP, no entry, no exceptions. We have space for everyone who would like to attend. If you want onto the lot, you must RSVP, whether your are driving, car pooling, biking, riding the bus, walking, etc. Cutoff for RSVP is Monday, 10 May at 12 Noon.
Schedule
6:30-7:00   Members only social hour
7:00-7:30   All attendee social hour
7:30   Program starts
Registration
You MUST RSVP to attend this event. There is no cost to RSVP and everyone who wants onto the Fox Studios lot MUST RSVP. Please remember to BRING YOUR ID with you so you will be allowed onto the Fox lot. No ID, no admittance. All LA ACM SIGGRAPH will be admitted free of charge. Non-members of LA ACM SIGGRAPH are admitted for $20.00. New LA ACM SIGGRAPH members who sign up on-site, and pay the $40 annual membership fee (checks or cash only), do not have to pay the $20 admission fee.
Special Thanks
FOX ENTERTAINMENT GROUP, the presenters, Fran Zandonella, Kathleen Milnes, Mike Amron, Anjelica Casillas, Jacqueline Rosado, and Scot Byrd, Sheri Burnham, Kim Van Hoven, volunteers, and the Executive Committee.