Experience the popular 360 visual musical art experience Mesmerica followed by a panel with the show's creators. Screenings of Mesmerica are regularly $35. This event includes screening of Mesmerica and a panel discussion that members attend for free and non-members can attend for $20.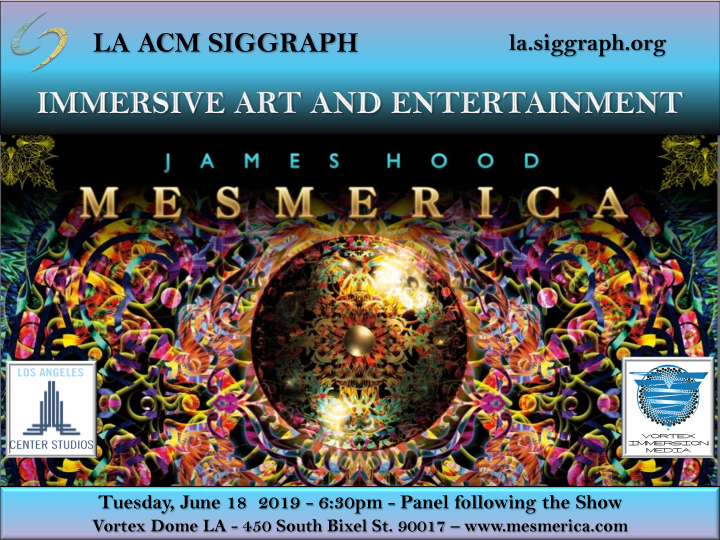 Schedule
6:30-7:30   Social Hour
- 6:30-7:00   Members & Preferred Guests only
- 7:00-7:30   Members and guests
7:30-7:45   Introductions
7:45-8:45   Mesmerica Screening
8:45-9:30   Panel with Content Creators
Registration
All LA ACM SIGGRAPH will be admitted free of charge. Non-members of LA ACM SIGGRAPH are admitted for $20.00. New LA ACM SIGGRAPH members who sign up on-site, and pay the $40 annual membership fee, do not have to pay the $20 admission fee. The chapter accepts checks, cash, or credit cards (Mastercard or Visa only) for all dues or fees.
Special Thanks
Venue sponsors Vortex Immersion Media and Los Angeles Center Studios, James Hood, Bennett Freed, Ed Lantz, Ed Arroyo, Tim Everingham, Leonard Daly, Joan Collins, Smita Bagla, Dave Curlender, Sherry Steele and all of the volunteers.