30 years of EZTV will serve as an excellent prelude to the Getty's plans for its major "Pacific Standard Time LA Art 1945-80" shows, planned for 2011-12, which are to take place at every major art venue in Southern California.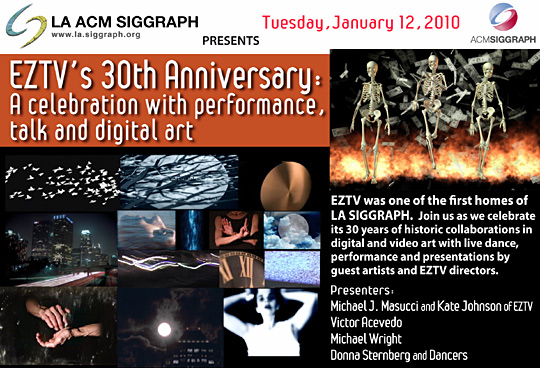 240 Charles E. Young Dr. The Broad Art Center Los Angeles, CA. 90095-1456
Description
EZTV was one of the first homes of LA SIGGRAPH. Join us as we celebrate its 30 years of historic collaborations in digital and video art with live dance, performance and presentations by guest artists and EZTV directors.
Presenters:
Michael J. Masucci, EZTV -- remakes about EZTV, accompanied by projected imagery
Kate Johnson, EZTV -- performance/lecture
Victor Acevedo -- digital art work and his role at EZTV
Michael Wright -- digital art work and his role at EZTV
Donna Sternberg and Dancers -- multi-media live dance pieces
Kate Johnson will present her lecture/performance, "The Accidental DigitalArtist". In 1993, penniless and driven, Kate walked into the surreal Cyberspace Gallery of EZTV thinking she was going to star in a video. Instead, she found herself fifteen years later a witness and participant in helming one of the rockiest climbs of her professional life. With stories ranging from Timothy Leary to the avant garde, from mystics to hackers, and from the quixotic to the tragic, Kate weaves a tapestry of life as a woman at the digital edge.
Schedule
6:30-7:30   Social Hour
- 6:30-7:00   Members only
- 7:00-7:30   Members and guests
7:30-9:30   Program
Registration
All LA ACM SIGGRAPH will be admitted free of charge. Non-members of LA ACM SIGGRAPH are admitted for $20.00. New LA ACM SIGGRAPH members who sign up on-site, and pay the $40 annual membership fee (checks or cash only), do not have to pay the $20 admission fee.