LA ACM SIGGRAPH presents its 2014 Season Finale - "Digital Cinema at 25". Spend an evening with Professor Thomas Sito, Jim Hillin, and Bonnie MacBird while they discuss where they thought we would be 25 years after Renderman and Terminator II came out; And, how an amazing group of non-conformists, beatniks, hippies, military, eggheads and dreamers created something no one asked them to, and no one wanted, and conquered all our media with it.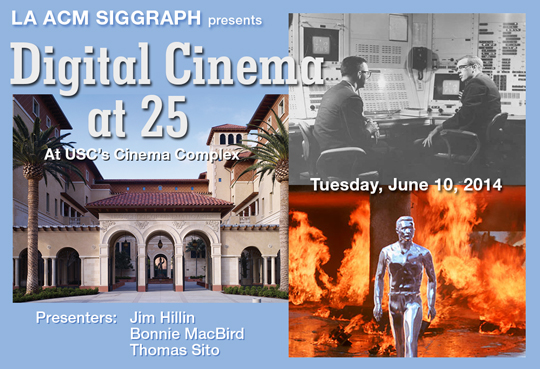 Schedule
6:30-7:30   Registration & Social Hour
7:30-7:45   Introductions
7:45-9:30   Presentation and Discussion
Registration
All LA ACM SIGGRAPH will be admitted free of charge. Non-members of LA ACM SIGGRAPH are admitted for $20.00. New LA ACM SIGGRAPH members who sign up on-site, and pay the $40 annual membership fee, do not have to pay the $20 admission fee. The chapter accepts checks, cash, or credit cards (Mastercard or Visa only) for all dues or fees.
Special Thanks
Los Angeles ACM SIGGRAPH: Tom Sito, Jim Hillin, and Bonnie MacBird, Joan Collins, Sheri Ki Sun Burnham, and all of the LA ACM SIGGRAPH Executive Council, and all the 2013-2014 season chapter volunteers.