A panel discussion about how Universal and other theme parks start with familiar stories from television and film and combine computer graphics with motion, sound, wind, smell and other sensory stimuli to provide audiences with a fully immersive experience.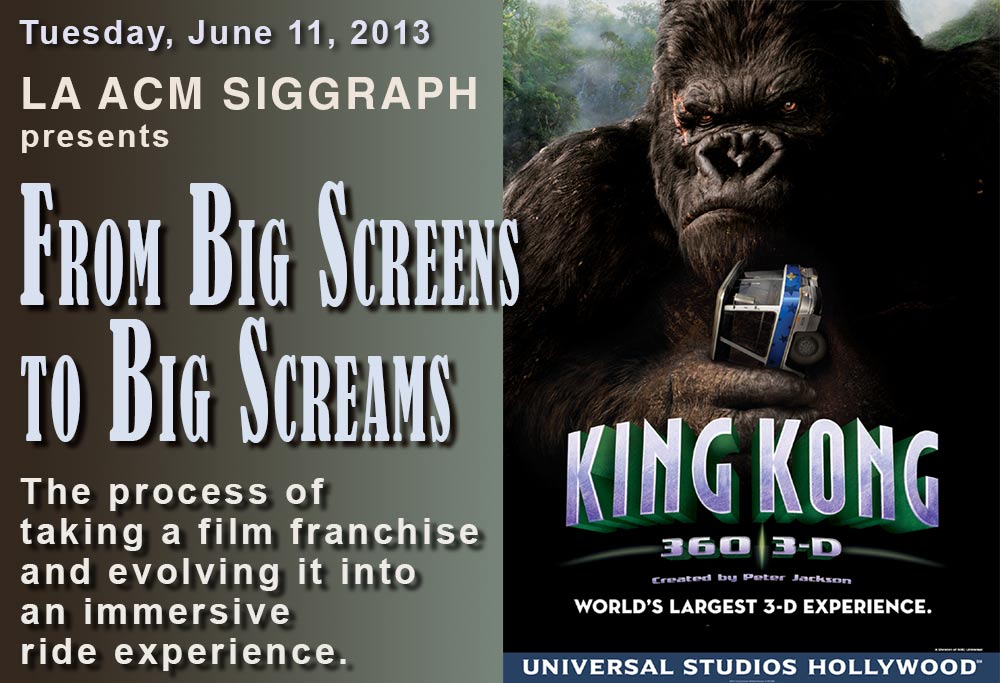 Description
The panel will explore the process of taking a film franchise and evolving it into an immersive ride experience. The panel is comprised of industry experts who will relate their experiences and concerns on how computer graphics are utilized along with other immersive technologies to bring well-known movie franchises such as King Kong to themed park rides.
Questions presented to the panel members include: "What software/hardware is involved?" and "What were some of the challenges?"
Schedule
6:30-7:30   Social Hour
- 6:30-7:00   Members only
- 7:00-7:30   Members and guests
7:30-7:45   Introductions
7:45-9:30   Panel Discussion
Registration
All LA ACM SIGGRAPH will be admitted free of charge. Non-members of LA ACM SIGGRAPH are admitted for $20.00. New LA ACM SIGGRAPH members who sign up on-site, and pay the $40 annual membership fee (checks or cash only), do not have to pay the $20 admission fee.
Special Thanks
Kim Van Hoven, Sheri Ki Sun Burnham, the Executive Council, and all of the volunteers.