Steve Wright returns to LA to give an in-person overview of VFX compositing techniques to those artists who RSVP to deepen their understanding of its critical role in visual effects. RSVPs are required.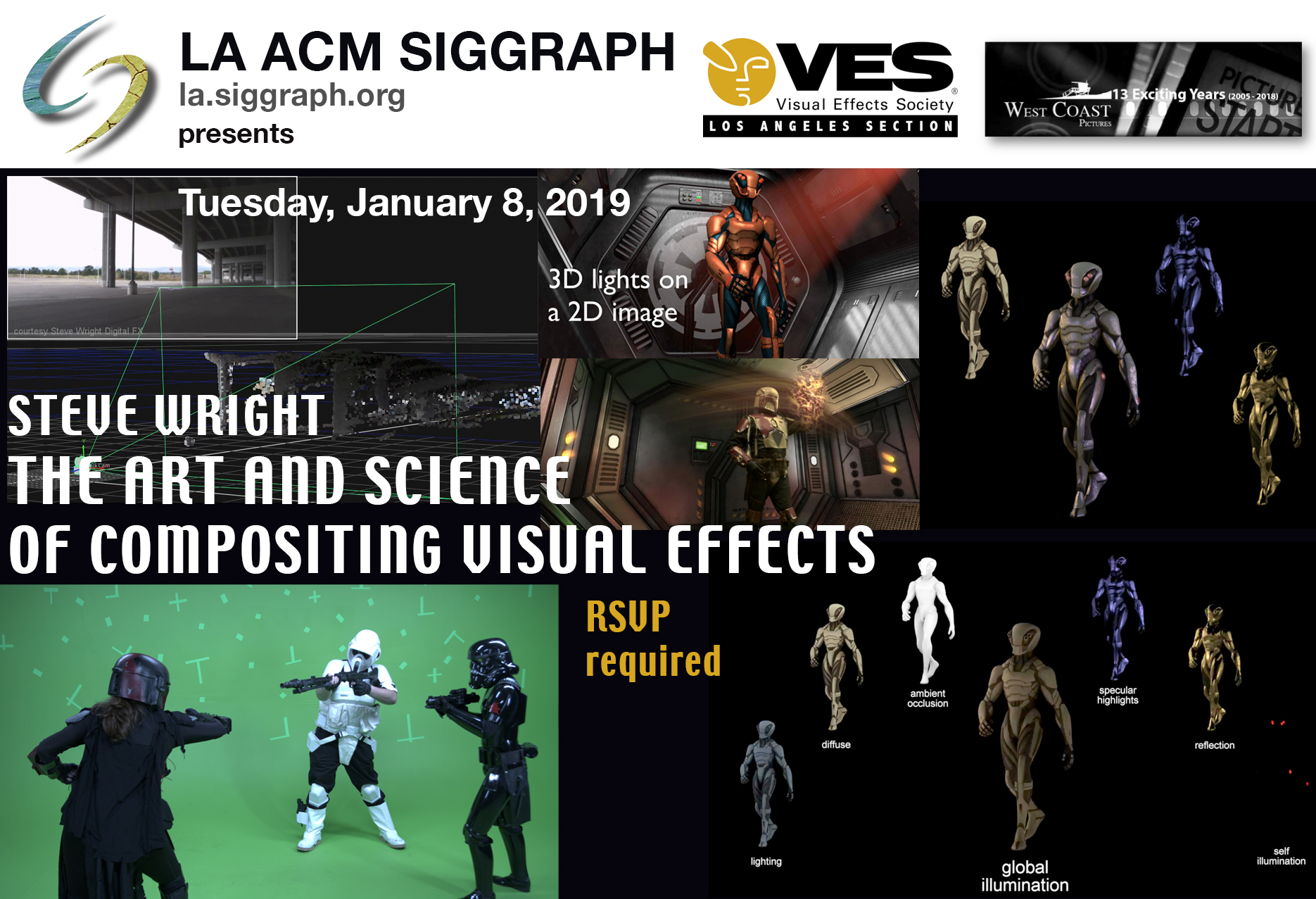 235 Charles E Young Drive West UCLA Los Angeles, CA. 90095
Description
Join the members of the VES Los Angeles Section, LA ACM SIGGRAPH and their guests as we engage in a tour of the tools, techniques, and artistic requirements for compositing Visual Effects. RSVPs are required.
Demonstrations of how compositing is used for camera tracking, set extension, camera projection, blue/green screen keying, color correcting, tracking, clean plate construction, and multi-pass CGI compositing. Advance your knowledge of what compositors do and how they do it.
A rare look into the math and science behind the incredible technology used in Nuke, the de facto industry standard visual effects compositing software by the Foundry, coupled with demonstrations of its applications to movie magic in today's blockbuster films. We peer behind the black curtain at how hi-tech visual effects shots are executed and what it takes to set one up with advanced concepts like Deep Compositing, Alembic Geometry, Camera Projection and CGI AOV's.
Compositing now holds a high position in the artistic expression of visual effects as compositors are now required to not only make shots compiled from multiple disparate sources merge together photo realistically, but to also make them look "cool". Compositors are now providing the final "look" to the shot with their blending of multiple cgi lighting passes and artistically driven color correction.
This event is also sponsored by
The Visual Effects Society Los Angeles Section
West Coast Pictures
Schedule
6:30-7:30   Social Hour
7:30-9:15   Program Presentation
Registration
This is an RSVP-only event.
All those who RSVP from LA ACM SIGGRAPH, VES, or are a Student from UCLA, will be admitted free of charge.
Non-members of LA ACM SIGGRAPH or VES are admitted for $20.00. New LA ACM SIGGRAPH members who sign up on-site, and pay the $40 annual membership fee, do not have to pay the $20 admission fee. The chapter accepts checks, cash, or credit cards (Mastercard or Visa only) for all dues or fees.
Special Thanks
Toni P. Carstensen, Anthony Magliocco, VES Los Angeles Section; West Coast Pictures; Steve Wright, Diane Wright;
UCLA School of Theater, Film, and Television; Joan Collins, Leonard Daly, Sheriann Ki Sun Burnham, LA ACM SIGGRAPH Executive Committee; and all of the volunteers.