An overview of computer graphics research being created at USC and ICT.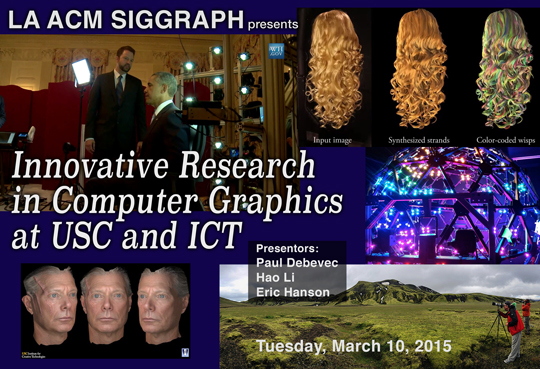 Description
Some of the most interesting and innovative research in computer graphics is happening locally at USC. The panelists will show some of the research work and computer graphics innovation being developed at USC.
Paul Debevec will provide an overview of the Institute for Creative Technologies and some of the latest developments within the research center.
Hao Li will review interesting material covered in his classes in the engineering department and provide a glimpse of some of his research in hair modeling, motion capture and scanning.
Eric Hanson will provide an overview of his approach to geographical, photogrammetry and scanning work in his classes and show some of the work being done by the Division of Animation & Digital Arts at USC.
Schedule
6:30-7:30   Social Hour
- 6:30-7:00   Members only
- 7:00-7:30   Members and guests
7:30-7:45   Introductions
7:45-9:30   Panel Discussion
Registration
All LA ACM SIGGRAPH will be admitted free of charge. Non-members of LA ACM SIGGRAPH are admitted for $20.00. New LA ACM SIGGRAPH members who sign up on-site, and pay the $40 annual membership fee, do not have to pay the $20 admission fee. The chapter accepts checks, cash, or credit cards (Mastercard or Visa only) for all dues or fees.
Special Thanks
Paul Debevec, ICT, Hao Li, Eric Hanson, Sheri Ki Sun Burnham, Susan Vanderhyden, the Executive Council, and all the volunteers.