GIS: Geographic Information Systems - A tool for Art and Science
GIS may be said to be a blend of the art and science of cartography with computer technology, giving the user the ability to collect, store, interpret and analyze spatial data. Join LA ACM SIGGRAPH as we investigate how the science of Place affects our lives.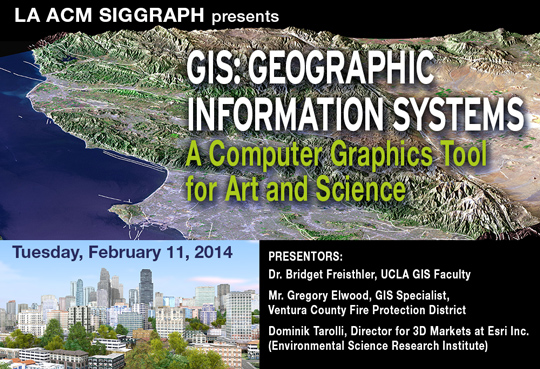 Schedule
6:30-7:30   Social Hour
7:30-7:45   Introductions
7:45-9:30   Presentations
Registration
All LA ACM SIGGRAPH will be admitted free of charge. Non-members of LA ACM SIGGRAPH are admitted for $20.00. New LA ACM SIGGRAPH members who sign up on-site, and pay the $40 annual membership fee, do not have to pay the $20 admission fee. The chapter accepts checks, cash, or credit cards (Mastercard or Visa only) for all dues or fees.
Special Thanks
UCLA Luskin School of Public Affairs, Waiyi Tse; Dr. Bridget Freisthler, Ph.D.; UCLA Catering, Jane Kim; Ventura County Fire Protection District, Gregory Elwood; ERSI's 3D Team, Dominik Taroli, Brooks Patrick, Jan Cunningham; Joan Collins, Sheri Ki Sun Burnham, Leonard Daly, the LA ACM SIGGRAPH Executive Council, and all the volunteers.