Join us for an evening with The Mill's Emerging Technology Group. The ETC will be showing off their latest advances.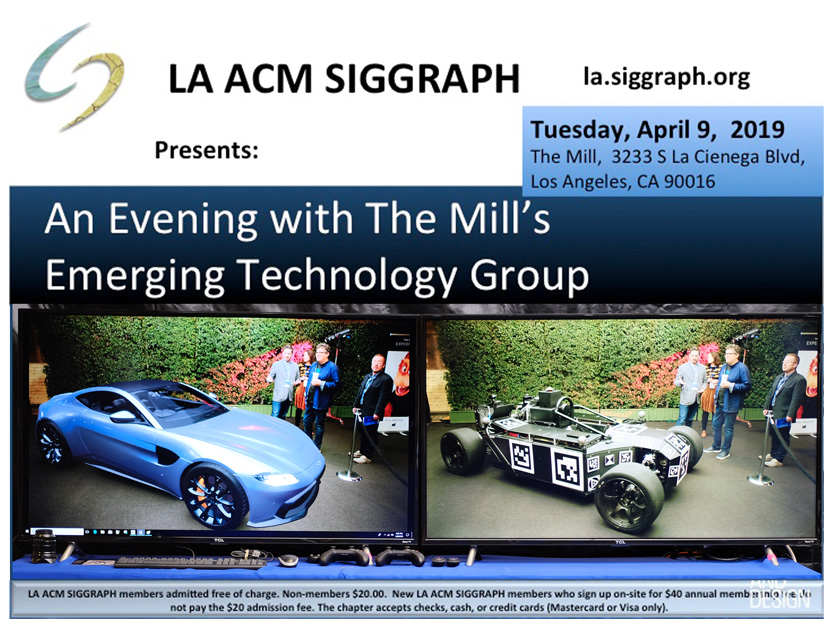 Description
Join us at The Mill for an overview of the Emerging Technology Group's current projects in the interactive, immersive and experiential space. Learn how this group of artists, technologists and producers is creating powerful ways of connecting with audiences.
Schedule
6:30-7:30   Social Hour
- 6:30-7:00   Members only
- 7:00-7:30   Members and guests
7:30-7:45   Introductions
7:45-9:00   Presentation
Registration
All LA ACM SIGGRAPH will be admitted free of charge. Non-members of LA ACM SIGGRAPH are admitted for $20.00. New LA ACM SIGGRAPH members who sign up on-site, and pay the $40 annual membership fee, do not have to pay the $20 admission fee. The chapter accepts checks, cash, or credit cards (Mastercard or Visa only) for all dues or fees.
Special Thanks
Thank you to The Mill's Managing Director, Rani Melendez, Michael Scarcella, Bethan Horton, Boo Wong, Aurelian Simon, Michael Novo, Michelle Lee, Stephanie Leal, Paisley Mares, Joan Collins, Ed Lantz, the LA ACM SIGGRAPH Executive Council and all the volunteers.