Architecture and Entertainment is enabling new 3D technologies and new displays. Using a multi-million dollar public video art project opening in L.A. as a case study, we will explore new public art projects' mega resolution video installations.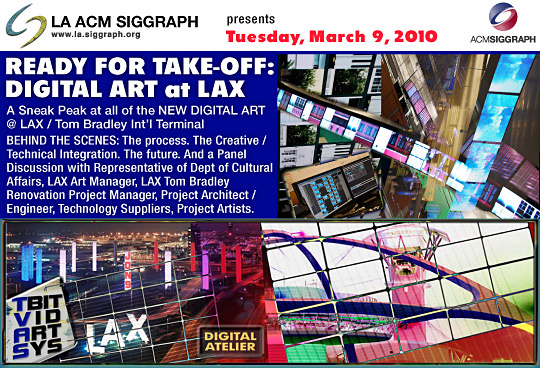 Schedule
6:30 - 8:00 PM Sneak Peak - See all of the new DIGITAL ART before the public grand opening!
6:30 PM OPEN DOORS to RE-LAX LOUNGE for our private social hour.
7:30 - 9:30 PM Program at 3rd level of Re-LAX Lounge, includes Social Hour with Appetizers
7:30 PM - Mike Amron - LA SIGGRAPH Welcome, and announcements
7:45 PM - Jon 9, System Designer/Programmer
8:00 PM - Felicia Filer, Director of Public Art, Dept of Cultural Affairs
8:15 PM - Sarah Cifarelli, Manager of Art, LAX
8:30 PM - Van C. Thompson, Project Manager, TBIT Renovation, Tom Bradley International Terminal
8:45 PM - Ted Wheaton, AECOM, Engineering Architect
9:00 PM - Jon 9, moderates PANEL DISCUSSION.
Registration
Bring your parking ticket from Structure 3 for validation at our Registration desk. The registration and Art Viewing Area is at LAX / Tom Bradley Int'l Terminal. Go through the far-North (to the right as you enter the building from the street) door on Ground Floor / Arrivals level. Look for the LA ACM SIGGRAPH signs directing you to the elevator or stairs and escalators. When you get to the third floor, walk to the rear and go up the escalator to the Mezzanine level - reLAX Lounge straight ahead.
All LA ACM SIGGRAPH will be admitted free of charge. Non-members of LA ACM SIGGRAPH are admitted for $20.00. New LA ACM SIGGRAPH members who sign up on-site, and pay the $40 annual membership fee (checks or cash only), do not have to pay the $20 admission fee.
Special Thanks
Jon 9, Holonyne Corporation; Joan Collins Carey, all of the volunteers, Green Hippo, and Walter Vergara, LAX ATM Airport Terminal Management.