Architecture and Entertainment is enabling new 3D technologies and new displays. Using a multi-million dollar public video art project opening in L.A. as a case study, we will explore new public art projects' mega resolution video installations.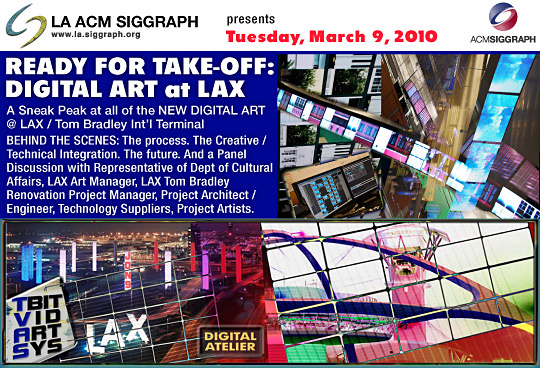 Description
READY FOR TAKEOFF - DIGITAL ART TAKES FLIGHT AT LAX
The L.A. Digital Art Scene takes on new dimensions as a world-class digital art installation gets set to open at the Tom Bradley International Arrivals Terminal at LAX. The multi-screen display system includes 96 screens and 60 networked media servers to display commissioned video art pieces with resolutions up to 37,120 pixels wide.
Jon 9 of Holonyne Corporation, the designer and programmer for the Media Display and Control System (MDCS) at LAX, is your host for a unique evening of information, art and technology, taking place March 9th at LAX.
Start at the Terminal to view the art on display and greet some of the 17 artists who have been commissioned by the L.A. Department of Cultural Affairs for this project. If you like hardware, peek into the control room for a quick tour of the multi-screen pre-viz and programming system. See Registration section below for directions to the sign-in desk. See the Location link for parking and access directions.
Then take a short walk to the third level at the reLAX Lounge for a chance to meet the people responsible for putting this impressive project together. In an informal atmosphere, tables will be set up throughout the restaurant with informational presentations and conversations between the artists, curators, arts administrators, architects, project managers, system designers and others. ( Food and beverages will be served.) The reLAAX Lounge is on the rear Mezzanine Food Court level at the back of the Departures area on the THIRD floor.
BEHIND THE SCENES:
The process:
project development
artist selection
architectural integration
system design and installation
system programming
Creative/Technical Integration:
Digital fine artists face the challenge of technical complexity.
The future:
potential for future art commissions at LAX
other digital art opportunities
new technology enables new forms of public art display: what are they?
Panel Discussion: Representative of Dept of Cultural Affairs, LAX Art Manager, LAX Tom Bradley Renovation Project Manager, Project Architect/Engineer, Technology Suppliers, Project Artists.
Close the evening with the fabulous ENCOUNTER bar opens (cash) and as a DJ hits the turntables, be prepared for special guest VJs to take over the video screens and move this Digital Art Encounter into the next dimension!
Schedule
6:30 - 8:00 PM Sneak Peak - See all of the new DIGITAL ART before the public grand opening!
6:30 PM OPEN DOORS to RE-LAX LOUNGE for our private social hour.
7:30 - 9:30 PM Program at 3rd level of Re-LAX Lounge, includes Social Hour with Appetizers
7:30 PM - Mike Amron - LA SIGGRAPH Welcome, and announcements
7:45 PM - Jon 9, System Designer/Programmer
8:00 PM - Felicia Filer, Director of Public Art, Dept of Cultural Affairs
8:15 PM - Sarah Cifarelli, Manager of Art, LAX
8:30 PM - Van C. Thompson, Project Manager, TBIT Renovation, Tom Bradley International Terminal
8:45 PM - Ted Wheaton, AECOM, Engineering Architect
9:00 PM - Jon 9, moderates PANEL DISCUSSION.

 
Registration
Bring your parking ticket from Structure 3 for validation at our Registration desk. The registration and Art Viewing Area is at LAX / Tom Bradley Int'l Terminal. Go through the far-North (to the right as you enter the building from the street) door on Ground Floor / Arrivals level. Look for the LA ACM SIGGRAPH signs directing you to the elevator or stairs and escalators. When you get to the third floor, walk to the rear and go up the escalator to the Mezzanine level - reLAX Lounge straight ahead.
All LA ACM SIGGRAPH will be admitted free of charge. Non-members of LA ACM SIGGRAPH are admitted for $20.00. New LA ACM SIGGRAPH members who sign up on-site, and pay the $40 annual membership fee (checks or cash only), do not have to pay the $20 admission fee.
Special Thanks
Jon 9, Holonyne Corporation; Joan Collins Carey, all of the volunteers, Green Hippo, and Walter Vergara, LAX ATM Airport Terminal Management.