The digital artists from the original 'Jurassic Park' will participate in a panel discussion on the seminal animation they created and how they changed the visual effects industry. A screening of the documentary on Steve "Spaz" Williams, titled 'The Wizard of Awe' will preceed the discussion.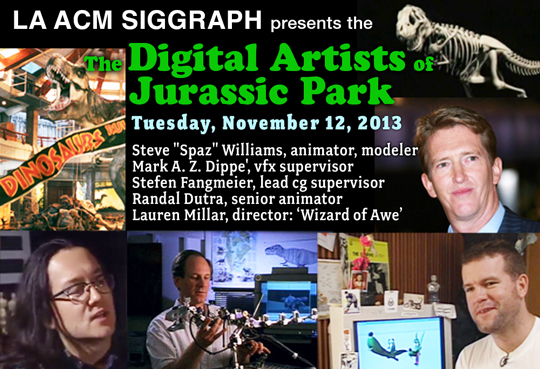 Schedule
6:30-7:15   Social Hour
- 6:30-6:50   Members only
- 6:50-7:15   Members and guests
7:15-8:00   Screening of 'The Wizard of Awe'
8:00-9:30   Panel Discussion "The Digital Artists of Jurassic Park"
Registration
All LA ACM SIGGRAPH will be admitted free of charge. Non-members of LA ACM SIGGRAPH are admitted for $20.00. New LA ACM SIGGRAPH members who sign up on-site, and pay the $40 annual membership fee, do not have to pay the $20 admission fee. The chapter accepts checks, cash, or credit cards (Mastercard or Visa only) for all dues or fees.
The crew of "Jurassic Park" are invited as our guests..
Special Thanks
Lauren Millar, Fusion CI Studios, Barnsdall Park, Sheri Ki Sun Burnham, Mike Amron, the LA ACM SIGGRAPH Executive Council, and all the volunteers.