What is the outlook for careers across the digital media spectrum – from artists to technical directors to producers in VR, games, motion design, film and other media "yet to be invented"? Hear and question a panel of hiring managers and veteran recruiters share the inside scoop on where the jobs are … and where they aren't.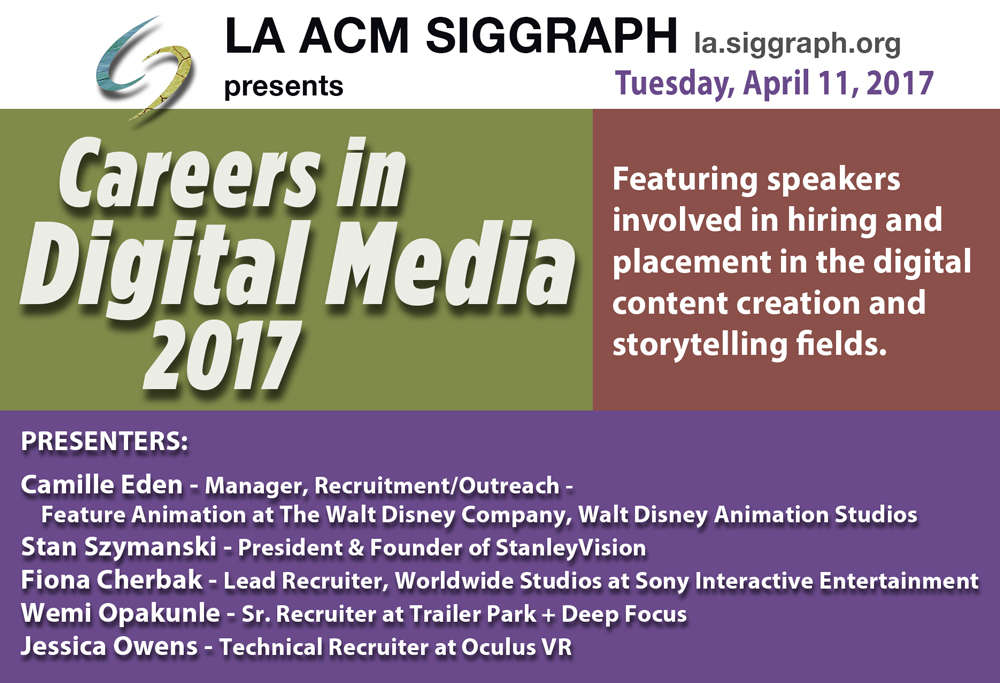 Description
This annual event features speakers involved in hiring and placement in the digital content creation and storytelling fields. This year the panel will include discussion of VR, location-based experiences, and other new opportunities. The prior years panels have been very successful.
Moderator: Kathleen Milnes, Assistant Chair, Digital Media, Otis College of Art and Design.
Schedule
6:30-7:30   Social Hour
- 6:30-7:00   Members only
- 7:00-7:30   Members and guests
7:30-7:45   Introductions
7:45-9:30   Presentations & Panel
Registration
All LA ACM SIGGRAPH will be admitted free of charge. Non-members of LA ACM SIGGRAPH are admitted for $20.00. New LA ACM SIGGRAPH members who sign up on-site, and pay the $40 annual membership fee, do not have to pay the $20 admission fee. The chapter accepts checks, cash, or credit cards (Mastercard or Visa only) for all dues or fees.
Special Thanks
Otis College of Art and Design, Kathleen Milnes, presenters, Sheri Ki Sun Burnham, Mike Amron, Susan Vanderhyden, the Executive Council, and all the volunteers.