A panel discussion on the Special and Visual Effects of Battlestar Galactica. Moderators: Gene Kozicki & Dan Curry.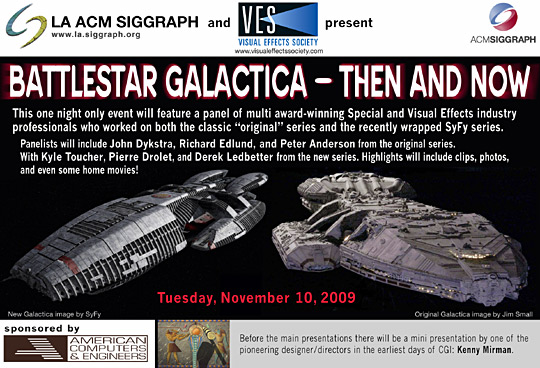 Schedule
6:30 - 7:00 PM   Social Hour & Hors d'oeuvres, Members only! (Social Hour will be outside...dress WARM)
7:00 - 7:30PM   Social Hour & Hors d'oeuvres, all admitted. IMPORTANT NOTE: Food and Water will be provided at no charge. Barnsdall will run a Cash Bar, with Beer, Wine and Soft Drinks.
7:15 - 7:30 PM   Bonus Pre-Show Feature...(In Theater)... During the Social Hour there will be a mini-presentation by one of the pioneering designer/directors in the earliest days of CGI: Kenny Mirman.
7:30 - 10:00 PM   Battlestar Galactica Presentations.
Registration
All LA ACM SIGGRAPH Members will be admitted free of charge. Non-members will admitted for $20.00. New LA ACM SIGGRAPH members who sign up on-site, and pay the $40 annual membership fee (checks or cash only), do not have to pay the $20 admission fee.
All Visual Effects Society Members will be admitted free of charge.
Special Thanks
Peter Anderson, Pierre Drolet, John Dykstra, Richard Edlund, Derek Ledbetter, and Kyle Toucher (presenters), and American Computers and Engineers (sponsor). Diana Lee and Gene Kozicki. All the members of the LA ACM SIGGRAPH Executive Council, and all our Volunteers.