A panel discussion on various aspects of 3D printing and scanning. It will include demonstrations of various devices.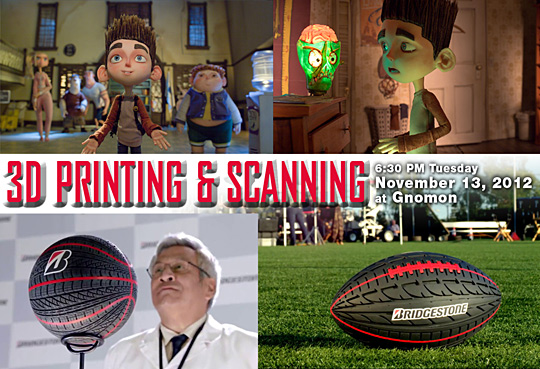 Description
Ever wonder how to make a feature film out 77 gallons of super glue, 8,000 pounds of powder and 5,000 Xacto blades?
Brian Mclean, the Director of Rapid Prototyping for LAIKA, creators of ParaNorman, will be joined by Academy Award winning Visual Effects Supervisor Kevin Mack, Digital Artist Derek Pendleton, Jean-Michel Voyer of Creaform and Robert Geshlider of Peak Solutions, in a state of the art look at 3D printing and 3D scanning for the entertainment industry.
Join us for a panel discussion with product demonstration of ZPrinter technology, the 3D printers used by LAIKA that print in 390,000 CYMK colors. We will be discussing Creaform's handheld 3D scanners including the just announced GO SCAN 3D, a USB powered handheld scanner that is incredibly fast.  See how you can print your Zbrush  models in 390,000 colors!
Schedule
6:30-7:30   Social Hour
- 6:30-7:00   Members only
- 7:00-7:30   Members and guests
7:30-7:45   Introductions
7:45-9:30   Panel Discussion and Demonstrations
Registration
All LA ACM SIGGRAPH will be admitted free of charge. Non-members of LA ACM SIGGRAPH are admitted for $20.00. New LA ACM SIGGRAPH members who sign up on-site, and pay the $40 annual membership fee (checks or cash only), do not have to pay the $20 admission fee.
Special Thanks
Creaform, Peak Solutions, and 3d Systems as sponsors; Fred Kaplan and Mike Amron as producers, Sheri Ki Sun Burnham, Mikki Rose, Susan Vanderhyden, Kim Van Hoven, the Executive Council, and all the volunteers.