The R&D team will discuss the pipeline and elements created for Disney's retelling of the Rapunzel story.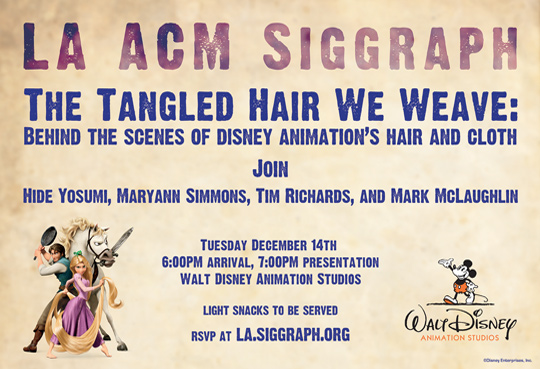 Schedule
6:00 PM   Social Hour   Join us for conversation and snacks
7:00 PM   LA ACM SIGGRAPH Announcements
7:30 PM   Tech Talks:
- 7:30 PM - 8:00 PM   TANGLED Hair
- 8:00 PM - 8:30 PM   TANGLED Cloth
- 8:30 PM - 9:00 PM   TANGLED Effects
Registration
All LA ACM SIGGRAPH will be admitted free of charge. Non-members of LA ACM SIGGRAPH are admitted for $20.00. New LA ACM SIGGRAPH members who sign up on-site, and pay the $40 annual membership fee (checks or cash only), do not have to pay the $20 admission fee.
Special Thanks
To Disney Animation Studios for creating and hosting this event.