** NOTE DATE CHANGE **
** You Must RSVP To Attend **
The animation director and visual effects supervisor of the film show and tell all about the challenges in bringing the inhabitants of Underland to life.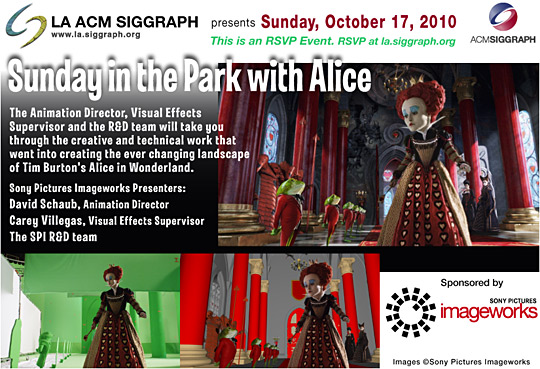 Saturday, 16 October 2010
Schedule
12 noon: Screening of Tim Burton's Alice in Wonderland (RSVP) in 3D (RealD)
2 PM - 3 PM: Social Hour sponsored by MAXON Computer, Inc. (everyone that has RSVP'd to at least one of the events is invited). There will be special demo featuring Sony Pictures Imageworks texture painter, Ron Bushaw, illustrating how his team uses MAXON's BodyPaint 3D in the texture painting pipeline.
3 PM - 6 PM: Presentations (RSVP)
3:00 - 3:40 David Schaub, Art Director
3:40 - 3:50 Q&A with Mr. Schaub
10-minute break
4:00 - 4:40 Carey Villegas, Visual Effects Supervisor
4:40 - 4:50 Q&A with Mr. Villegas
10-minute break
5:00 - 5:40 Imageworks R&D department will talk about the special software designed to facilitate the effects in the film
5:40 - 5:50 Q&A with the R&D department
6:00 End of meeting event
Registration
This day long event is free to Los Angeles ACM SIGGRAPH members.
Non-members are $15 for the 12 noon screening and $20 for the 3pm Presentations or $30 for the entire day. Social Hour, MAXON demo and snacks are complementary for anyone who attends either of the events.
New members that sign up on site and pay the $40 annual membership fee (checks or cash only) do not have to pay either of the non-member/visitor fees for either part of the event. Membership entitles you to attend a year's worth of free meetings and events.
Special Thanks
We wish to thank Don Levy, David Schaub, Carey Villegas, Ron Bushaw, Sony Pictures Imageworks, Paul Babb, Mathias Omotola, Josiah Hultgren, MAXON Computer, Inc., Carlye Archibeque, Kim Van Hoven, Mikki Rose, Sheri Burnham, Leonard Daly, Diana Lee, the LA ACM SIGGRAPH Executive Council, and all our Volunteers.