Join us for a screening of the films selected for this year's SIGGRAPH Computer Animation Festival.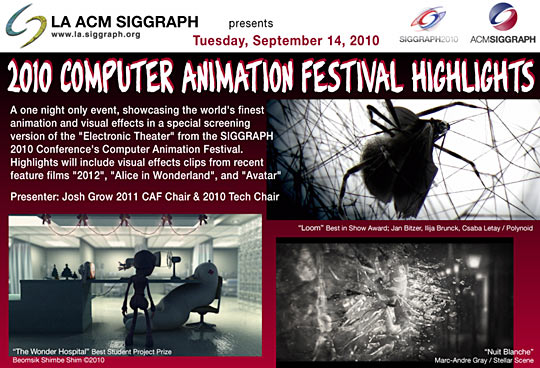 Monday, 13 September 2010
Schedule
6:30 PM - 7:30 PM   Social Hour
7:30 PM - 10:00 PM (approximate)   Program Presentation
Registration
All LA ACM SIGGRAPH will be admitted free of charge. Non-members of LA ACM SIGGRAPH are admitted for $20.00. New LA ACM SIGGRAPH members who sign up on-site, and pay the $40 annual membership fee (checks or cash only), do not have to pay the $20 admission fee.
Special Thanks
We wish to thank Carlye Archibecque, Kim Van Hoven, the ACM SIGGRAPH Computer Animation Festival Committee, Los Angeles Valley College, Sheriann Ki Sun Burnham, Leonard Daly, Diana Lee, Mikki Rose, Kristal Kamholz and the Executive Council and all the Volunteers.