Recapping an offering of the Evening Theater by Carlye Archibeque.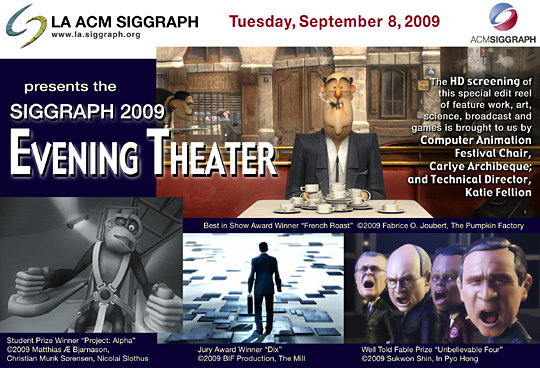 Description
We will screen the ET (Evening Theater) from SIGGRAPH 2009.
Schedule
6:30-7:30   Social Hour
- 6:30-7:00   Members only
- 7:00-7:30   Members and guests
7:30-7:45   Introductions
7:45-9:30   Screening
Registration
All LA ACM SIGGRAPH will be admitted free of charge. Non-members of LA ACM SIGGRAPH are admitted for $20.00. New LA ACM SIGGRAPH members who sign up on-site, and pay the $40 annual membership fee (checks or cash only), do not have to pay the $20 admission fee.
Special Thanks
We wish to thank Diane Piepol (producer), Sheriann Ki Sun Burnham, Diana Lee, and the Executive Council and all the Volunteers.