A screening of the best of the SIGGRAPH 2012 Computer Animation Festival. This is an annual event for the chapter to showcase the best of the best from SIGGRAPH.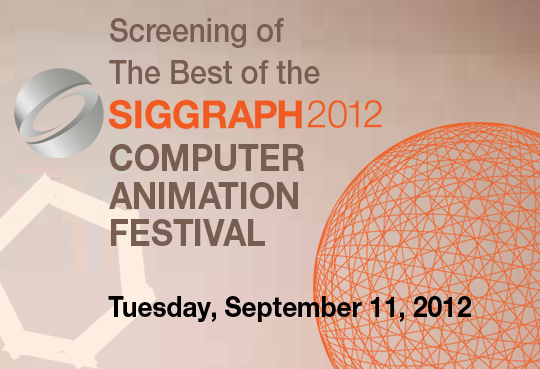 Monday, 10 September 2012
Description
A screening of the <strong>best</strong> of SIGGRAPH 2012's Computer Animation Festival (CAF). There is so much going on during SIGGRAPH that not everyone can attended everything they would like. LA ACM SIGGRAPH tries to help ease some of that burden by assembling the best of the CAF into one approximate 90 minute reel. The screening will contain the award winners and other highly memorable animation films from SIGGRAPH 2012.
As is standard, the chapter will provide a social hour prior to the screening where you will have a chance to meet other members of the chapter and enjoy some refreshments.
Schedule
6:30-7:30   Social Hour
- 6:30-7:00   Members only
- 7:00-7:30   Members and guests
7:30-7:45   Introductions
7:45-9:30   Screening
Registration
All LA ACM SIGGRAPH will be admitted free of charge. Non-members of LA ACM SIGGRAPH are admitted for $20.00. New LA ACM SIGGRAPH members who sign up on-site, and pay the $40 annual membership fee (checks or cash only), do not have to pay the $20 admission fee.
Special Thanks
Susan Vanderhyden (Art Institute), Kim Van Hoven, Mikki Rose, Leonard Daly, and all of the volunteers.