This event will be an overview of the work xRez Studio does in the fields of VR/AR, visual effects, education, entertainment and more utilizing photogrammetry to achieve stunning results. We will also present an overview of the process of photogrammetry to create accurate and detailed 3d representations of people by Human-Engine.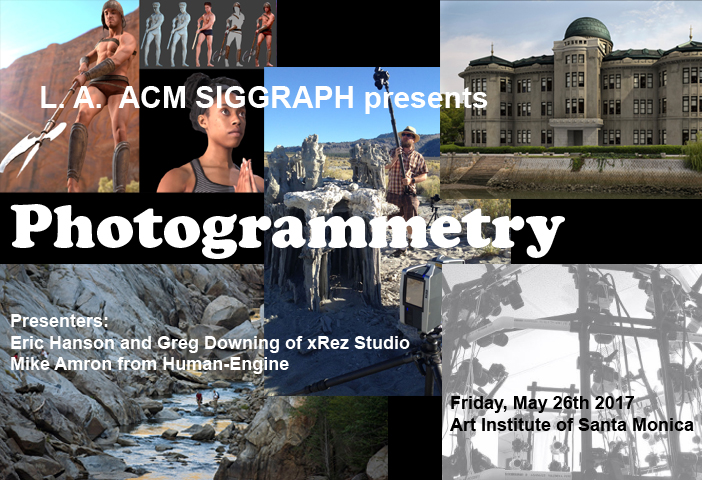 Schedule
6:30-7:30   Social Hour
- 6:30-7:00   Members only
- 7:00-7:30   Members and guests
7:30-7:45   Introductions
7:45-9:30   Presentations
Registration
All LA ACM SIGGRAPH will be admitted free of charge. Non-members of LA ACM SIGGRAPH are admitted for $20.00. New LA ACM SIGGRAPH members who sign up on-site, and pay the $40 annual membership fee, do not have to pay the $20 admission fee. The chapter accepts checks, cash, or credit cards (Mastercard or Visa only) for all dues or fees.
Special Thanks
Eric Hanson and Greg Downing of XREZ (presenters) and Mike Amron (presenter and producer), Philip Donahue, Vincent Bohossian, the Art Institute of Santa Monica, the Executive Council, and all the volunteers.