An overview of the visual effects techniques employed across the production pipeline integrating both propriety tools and Houdini will be discussed with a special emphasis on selected effects. A screening of the film will immediately follow the presentation.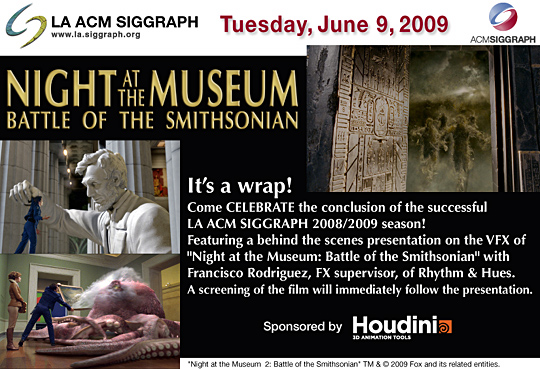 Schedule
6:30 - 7:30 PM Social Hour - Karl Strauss Brewing Company, Universal Citywalk
7:30 PM - 10:00 PM - Presentation and Screening at AMC Citywalk Stadium 19 Theaters
Registration
All LA ACM SIGGRAPH will be admitted free of charge. Non-members of LA ACM SIGGRAPH are admitted for $20.00. New LA ACM SIGGRAPH members who sign up on-site, and pay the $40 annual membership fee (checks or cash only), do not have to pay the $20 admission fee.
Special Thanks
SideFX software, Leyla Tirgari, Keith Acheson, Rhythum & Hues, Scot Byrd, Francisco Rodriguez, Diane Piepol, Mar Sorrell, Leonard Daly, Sheriann KiSun Burnham, the LA ACM SIGGRAPH Executive Council and all our Volunteers.