Free holiday party for LA ACM SIGGRAPH sponsored by Motion Media.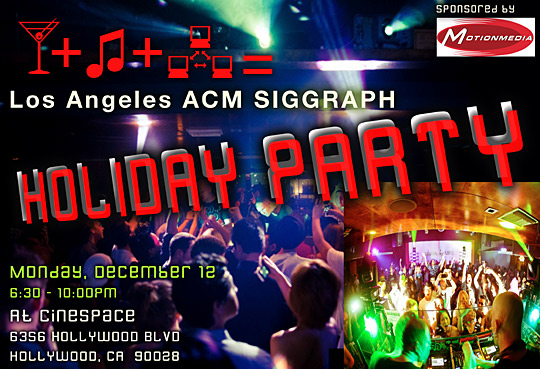 Schedule
6:30-7:00   Members only
7:00-9:30   Members and guests
Event ends by 10PM.
Registration
We've decided to open up general admission to the CG Community at large for free! Let's Party!
Admittance is free for members and visitors.
Priority entrance for our Members until 7pm
All Visitors are welcome.
All LA ACM SIGGRAPH and MOTION MEDIA personal will be issued a limited number of vouchers for free beverages. Cinespace will also be running Cash Bars, with Beer, Wine and Soft Drinks. Food and Water will be provided at no charge. ALL I.D's will be checked for purchases of alcohol!!
Special Thanks
Motion Media, Craig X-ray Haleprin, Sharon Eisenberg, Joan Collins, Diana Lee, Sheriann Ki Sun Burnham, Kimberly Roussel, and the Executive Council and all of the volunteers.