Console games now use devices with motion capture and body recongnition. This event will look at the Kinect and its extended capabilities.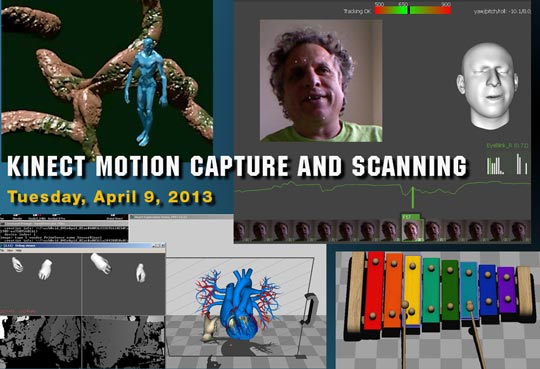 Description
Kinect Motion Capture and Scanning
 
Some of the most exciting development is being created on the Microsoft Kinect, a consumer device for the Xbox that has captured the imagination of programmers and artists worldwide. The Kinect is changing how we use computers: through gestures we can control software and we can scan objects with the ease of drawing a sketch.
 
The Kinect is capable of capturing performances without markers or motion capture suits. It's also capable of scanning objects in real time, creating 3D data on the fly. Through live demonstrations of real-time 3D scanning, motion capture and facial capture, we will demonstrate the capabilities of this new device.
 
Examples of medical, entertainment and live venue uses will be shown.
Schedule
6:30-7:30   Social Hour
- 6:30-7:00   Members only
- 7:00-7:30   Members and guests
7:30-7:45   Introductions
7:45-9:30   Presentations
Registration
All LA ACM SIGGRAPH will be admitted free of charge. Non-members of LA ACM SIGGRAPH are admitted for $20.00. New LA ACM SIGGRAPH members who sign up on-site, and pay the $40 annual membership fee (checks, cash, MasterCard, or Visa), do not have to pay the $20 admission fee.
Special Thanks
Mike Amron (producer and presenter), Sheri Ki Sun Burnham, Hans Gelpke, Susan Vanderhyden, Kim Van Hoven, the Executive Council, and all the volunteers.