Open house at the Jim Henson's Creature Shop in Hollywood.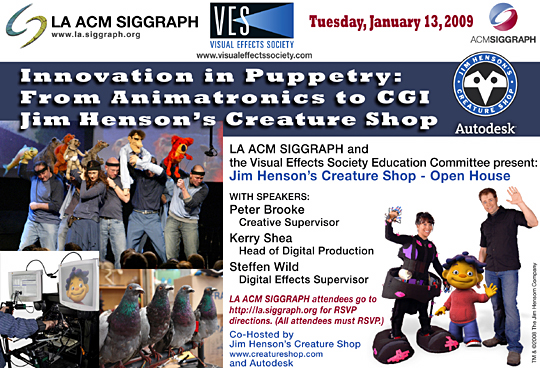 Schedule
6:30 – 7:30pm   Social Hour
6:30 – 7:00pm   LA ACM SIGGRAPH and VES Members admission with reservations
7:00 – 7:30pm   General Admission with reservations
7:30 – 8:15pm   Presentation on the Henson Soundstage: Overview of Jim Henson's Creature Shop with live demo of the Henson Digital Puppetry Studio
8:15 – 8:30pm   Q & A from the audience
8:30 – 9:30pm   Self-guided tours of the lot and guided tours of Jim Henson's Creature Shop
Registration
This event is free to LA ACM SIGGRAPH and Visual Effects Society members, and $20 for non-members. New LA ACM SIGGRAPH members who sign up on site and pay the $40 annual membership fee (checks or cash only) do not have to pay the $20.
To be admitted to this event, you must RSVP. This is a joint event with the Visual Effects Society (VES). VES members should register on the VES site. Joint members can register on either site.
Special Thanks
Claudia Sumner, Leonard Daly, Sheri Ki Sun Burnham, Diana Lee, Kathleen Milnes, Diane Piepol, the Executive Council and all the LA ACM SIGGRAPH Volunteers.
Melissa Sherman (VES), Toni Pace Carstenson (VES)
Kerry Shea, Donny Kennedy and all the staff at The Jim Henson Company
Reservations for this event have been closed. We are sorry we are unable to accomidate you for this event. Please come to our February event. Details will be announced on the web site.