LA ACM SIGGRAPH presents a screening of Sony Pictures Animation's new "Hotel Transylvania"! RSVP for an evening on the lot in Culver City and watch their new masterpiece in the Ray Harryhausen Theater. Joining us for the introduction of the film will be a special guest artist! Be sure to RSVP by October 7th!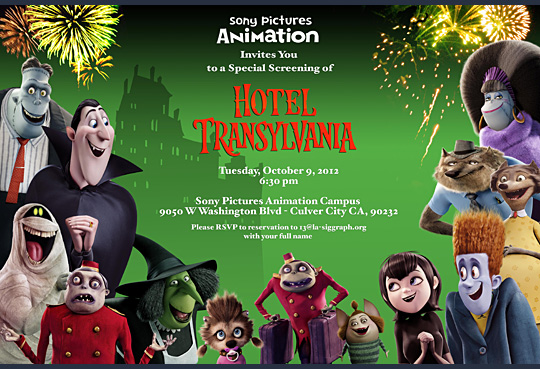 9050 W. Washington Blvd. Culver City, CA. 90232
Description
Welcome to "Hotel Transylvania", Dracula's lavish five-stake resort, where monsters and their families can live it up, free to be the monsters they are without human interference. For one special weekend, Dracula invites some of his best friends – Frankenstein and his bride, the Mummy, the Invisible Man, the Werewolf family, and more – to celebrate his beloved daughter Mavis's 118th birthday. First-time feature director Genndy Tartakovsky ("Dexter's Laboratory", "Samurai Jack", "Clone Wars") and the creative team behind "Hotel Transylvania" have created an original animation style for this CG feature, as well as developed new technology at Sony Pictures Animation for this frighteningly funny film.
You MUST RSVP by 8AM PDT on Monday, 8 October 2012. You RSVP by sending an email to reservation13 [AT] la-siggraph.org. The email needs to contain the first and last name and email address of all attendees. Sony security will check the names at the gate so only those people whose names are listed will be admitted onto the lot. Your email address will not be passed to Sony security. If a confirmation message bounces, the name associated with that address will lose their reservation.
Reservations are first-come, first-serve. When the space is full, all incoming reservations will be added to a stand-by list and moved to the acceptance list as space becomes available. You can cancel you reservation by sending an email to reservation13 [AT] la-siggraph.org and include your name and email address.
Schedule
6:30-7:00   Social Hour for Everyone
7:00-7:15   Introductions
7:15-9:00   Screening
Registration
All LA ACM SIGGRAPH will be admitted free of charge. Non-members of LA ACM SIGGRAPH are admitted for $20.00. New LA ACM SIGGRAPH members who sign up on-site, and pay the $40 annual membership fee (checks or cash only), do not have to pay the $20 admission fee.
Special Thanks
Sony Pictures Animation for hosting, Executive Committee, and all of the volunteers