LA ACM SIGGRAPH, PGA New Media Council, Visual Effects Society LA Section and Griffith Observatory present this unique event at the Griffith Observatory Planetarium. Seating is limited, sponsor organization membership and RSVPs are required.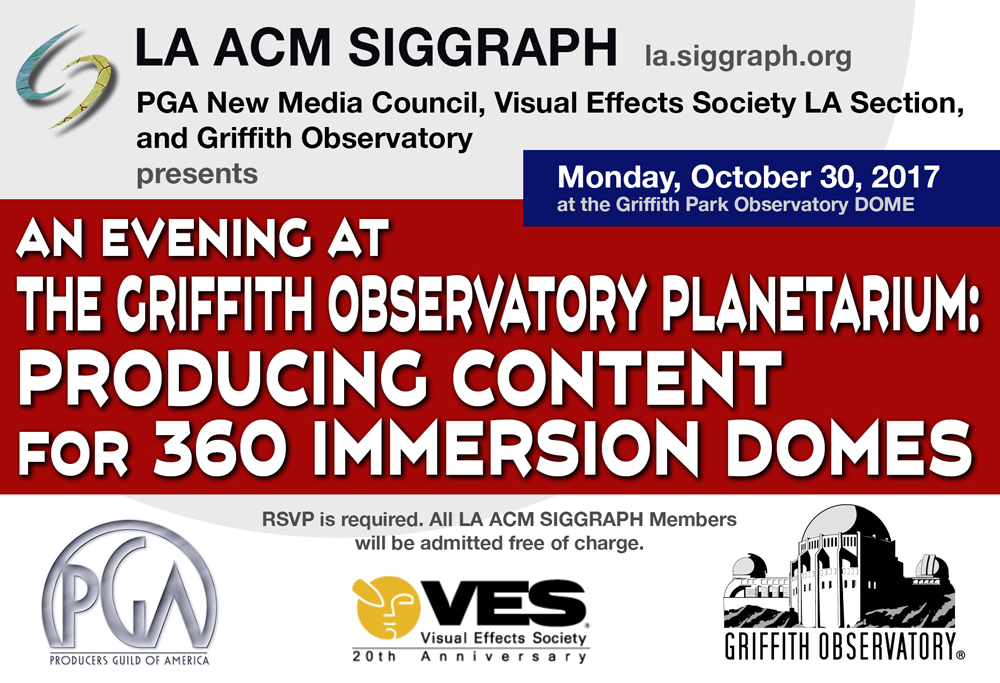 Description
Digital "fulldome" planetariums emerged in the late 1990's as pioneers of 360 immersive media. Many spherical compositing tools, shaders and camera clusters were first introduced for digital planetariums. There are now over 1500 digital domes worldwide in universities, science centers, museums and school districts. Nearly every major city in the world has a digital planetarium dedicated to astronomy and space science. Digital domes are also finding a wide range of applications in theme parks, corporate events, festivals and more.
We invite you to attend this highly informative evening at the iconic Griffith Observatory. With its spectacular Zeiss star projector, state-of-the-art 8k 360 projection system, surround sound and theatrical lighting, the 290-seat Samuel Oschin Planetarium theater is the finest planetarium in the world. Guest speakers will present an overview of the 360 theaters marketplace, emerging 360 entertainment markets, production workflow for digital domes with case studies followed by a showcase of fulldome content including animation and live action.
Reservations are required for each person, each attendee must be a member of a sponsoring organization (see Registration below), and parking is limited. Please carpool or use alternative means of transportation.
Schedule
5:30-6:50pm - Dinner and Socializing (Optional)
The Cafe' at the Edge of the Universe will be open for no-host dining if you'd like to arrive early prior to the program. Please indicate your will be attending for dinner when making your RSVP on the registration page.
7:00-7:05pm - Welcome Dr. Laura Danly
7:05-7:20pm – Immersive Media Market Overview, Ed Lantz
7:20-7:45pm – "Signs of Life", a New Planetarium Show at Griffith Observatory, Dr. Laura Danly and Jake Martin
7:45-8:00pm – Producing for 8k Digital Fulldome, Michael Daut
8:00-9:00pm – FULLDOME SHOWCASE
9:00-9:30pm – Q&A and Networking
Registration
All LA ACM SIGGRAPH, PGA, and VES members will be admitted free of charge. LA ACM SIGGRAPH Members MUST register at http://la.siggraph.org/rsvp-griffith-observatory-planetarium-producing-…. You can join the chapter at http://la.siggraph.org/join. You will not be admitted without an accepted RSVP. No guests will be accepted for this event. You can become a member or renew your existing membership by registering and paying the $40 annual membership fee. The chapter accepts Mastercard and Visa for online payments. PGA and VES members please use your organization's event page and registration instructions
Special Thanks
Dr. Laura Danly, and Dawn Fidrick, Griffith Observatory; Kate McCallum, PGA; Jeff Okun, and Joan Collins, VES-LA, Ed Lantz, LA ACM SIGGRAPH; all the volunteers.