Artists who create digital concept art or illustration using exciting techniques and imagery on a widespread scale. Digital illustration has proliferated in society.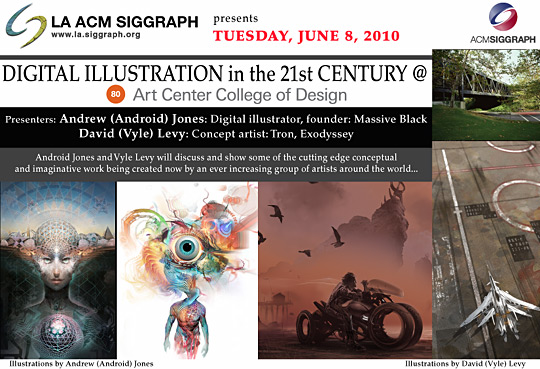 Schedule
6:30-7:30 - Social Hour & Hors d'oeuvres (no charge)
7:30-7:45 - LA SIGGRAPH Welcome - Frank Gladstone of SIGGRAPH 2010
7:45-9:30 - Program Presentations
Registration
All LA ACM SIGGRAPH will be admitted free of charge. Non-members of LA ACM SIGGRAPH are admitted for $20.00. New LA ACM SIGGRAPH members who sign up on-site, and pay the $40 annual membership fee (checks or cash only), do not have to pay the $20 admission fee.
Special Thanks
Ann Field, Chair of he Illusration Dept of Art Center College of Design; Mike Amron; Joan Collins Carey; Diana Lee; & the entire Execituve Council of the Los Angeles ACM SIGGRAPH Chapter.