Presentation & Screening Sony Pictures Imageworks' key personnel host a presentation on the feature. Screening too!! Reservations are required for this event. Please click through to sign up.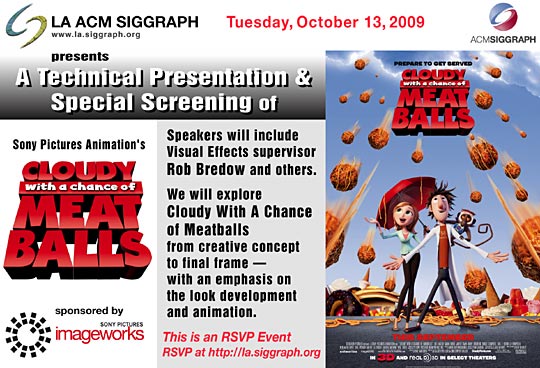 Description
This is an RSVP Event see "Registration" section below
Sony Pictures Animation's "Cloudy with a change of Meat Balls" will be screened after a technical presentation exploring the film from creative concept to final frame with an emphasis on look development and animation. The presenters will include Visual Effects supervisor Rob Bredow and others.
Schedule
6:30-7:00PM - Member Admissions with 'Approved' RSVP
7:00-7:15PM - All Admissions with  'Approved' RSVP
7:15-7:30PM - All admissions with 'Approved' or 'Wait-List' RSVP
6:30-7:30PM - Social hour with appetizers
7:30-10:00PM - Program and screening
 
Registration
All LA ACM SIGGRAPH will be admitted free of charge. Non-members of LA ACM SIGGRAPH are admitted for $20.00. New LA ACM SIGGRAPH members who sign up on-site, and pay the $40 annual membership fee (checks or cash only), do not have to pay the $20 admission fee.
 
Because seating is very limited, all attendees <b>MUST</b> follow these instructions. If you don't follow this process you may forfeit your reservation. Only people with reservations will be allowed into the event.0
RSVP using the sign up form below by 10AM on Monday, 12 October.
If you are driving, you must reserve your seat.
If you are riding with someone else, you must reserve your seat.
If you are biking, you must reserve your seat.
If you are walking, you must reserve your seat.
If you are using public transportation, you must reserve your seat.
If you want to get in, you must reserve your seat.
Your reservation is not accepted until you receive an email that indicates that your status has been updated from 'Registered' to 'Approved'.
All notices will go out via email on Monday afternoon.
Any emails that bounce will cause you to forfeit your reservation.