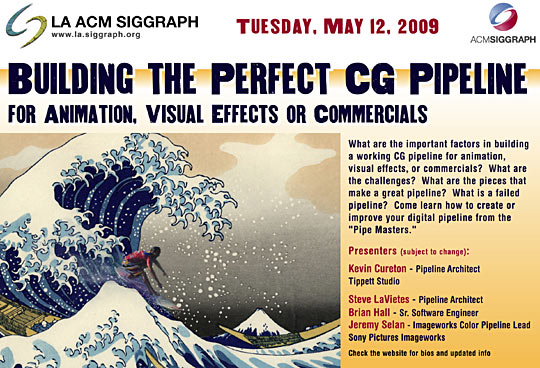 9050 W. Washington Blvd. Culver City, CA. 90232
Description
What are the important factors in building a working CG pipeline for animation, visual effects, or commercials? What are the challenges? What are the pieces that make a great pipeline? What is a failed pipeline? Come learn how to create or improve your digital pipeline from the "Pipe Masters."
Everyone MUST sign up for this event as theater seating space is limited.
Schedule
6:30 - 7:30   Social Hour
7:30 - 7:45   Program
Registration
All LA ACM SIGGRAPH will be admitted free of charge. Non-members of LA ACM SIGGRAPH are admitted for $20.00. New LA ACM SIGGRAPH members who sign up on-site, and pay the $40 annual membership fee (checks or cash only), do not have to pay the $20 admission fee.
Special Thanks
Special Thanks: Fran Zandonella, Producer. Thanks to Sharon Eisenberg (Co-Meeting Producer & Past Chair), Joan Collins Carey (Executive Producer, Vice Chair, & Past Chair), all presenters, Leonard Daly, Sheriann Kisun Burnham and all LA ACM SIGGRAPH Chapter Executive Council members and volunteers.