Stereopalooza: Member Showcase Screening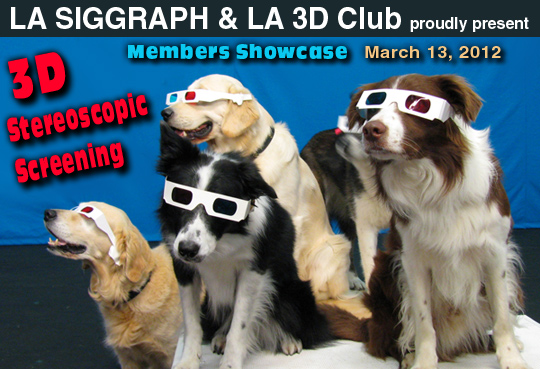 Description
Come join the Los Angeles Chapter of ACM SIGGRAPH and the LA 3-D Club as we present a screening featuring the best in stereoscopic work from our members. Included will be work from studios and individuals alike. Invited guest speaker is 3-D film historian Ray Zone to give a brief intro talk on the history and recent growth of independent stereoscopic production.
Schedule
6:30-7:30   Social Hour
- 6:30-7:00   Members only
- 7:00-7:30   Members and guests
7:30-7:45   Introductions
7:45-9:30   Screening
Registration
All LA ACM SIGGRAPH and LA 3D Club members will be admitted free of charge. Non-members of LA ACM SIGGRAPH are admitted for $20.00. New LA ACM SIGGRAPH members who sign up on-site, and pay the $40 annual membership fee (checks or cash only), do not have to pay the $20 admission fee.
Special Thanks
Xray Halperin, Eric Kurland, Sharon Eisenberg, and the Executive Council of the Los Angeles Chapter of ACM SIGGRAPH and volunteers