Los Angeles ACM SIGGRAPH, with Walt Disney Feature Animation, will present the SIGGRAPH 2014 Computer Animation Festival. This Festival will present dozens of the best computer animated films culled from around the world. RSVP's are required.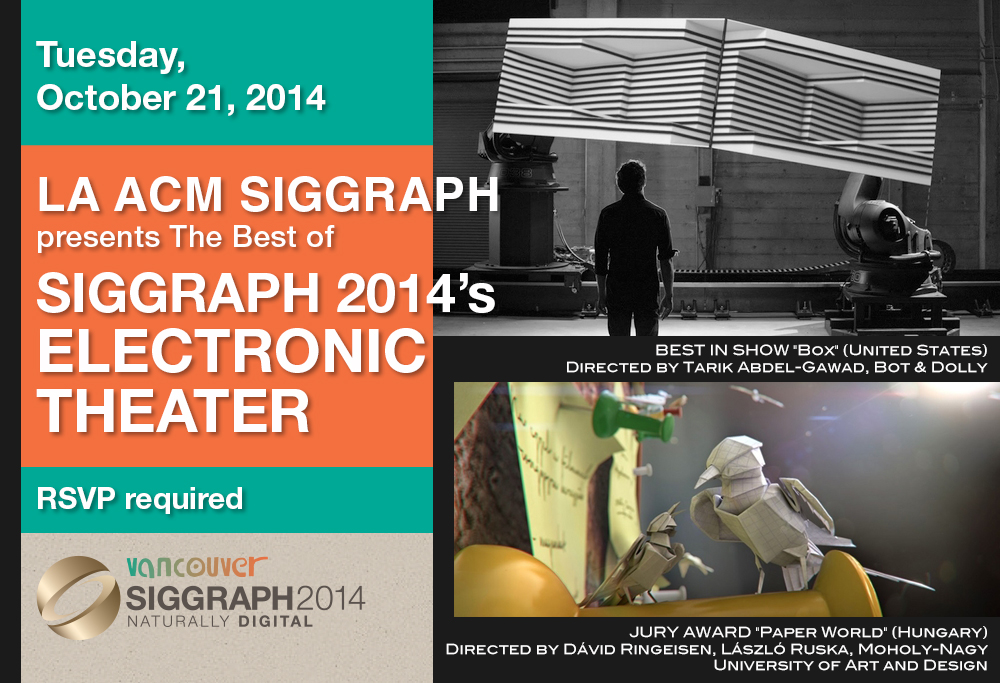 Schedule
6:30-7:30   Social Hour
- 6:30-7:00   Members only
- 7:00-7:30   Members and guests
7:30-7:45   Introductions
7:45-9:30   Screening
Registration
You must RSVP for this event to enter the Disney Lot. Reservations must be made by 10AM PDT on Thursday, 16 October. All attendees must RSVP whether you walk, bicycle, skate, unicycle, drive, bus, fly or any other means of getting onto the Disney lot. Please bring a government-issued photo ID for access to the Disney lot. Everyone entering the facility must have ID.
All LA ACM SIGGRAPH will be admitted free of charge. Non-members of LA ACM SIGGRAPH are admitted for $20.00. New LA ACM SIGGRAPH members who sign up on-site, and pay the $40 annual membership fee, do not have to pay the $20 admission fee. The chapter accepts checks, cash, or credit cards (Mastercard or Visa only) for all dues or fees.
Special Thanks
LA ACM SIGGRAPH wishes to thank Disney Animation, Chris Chung, ACM SIGGRAPH, Sheriann Burnham, Leonard Daly, members of the Executive Committee, and all of the Chapter volunteers.