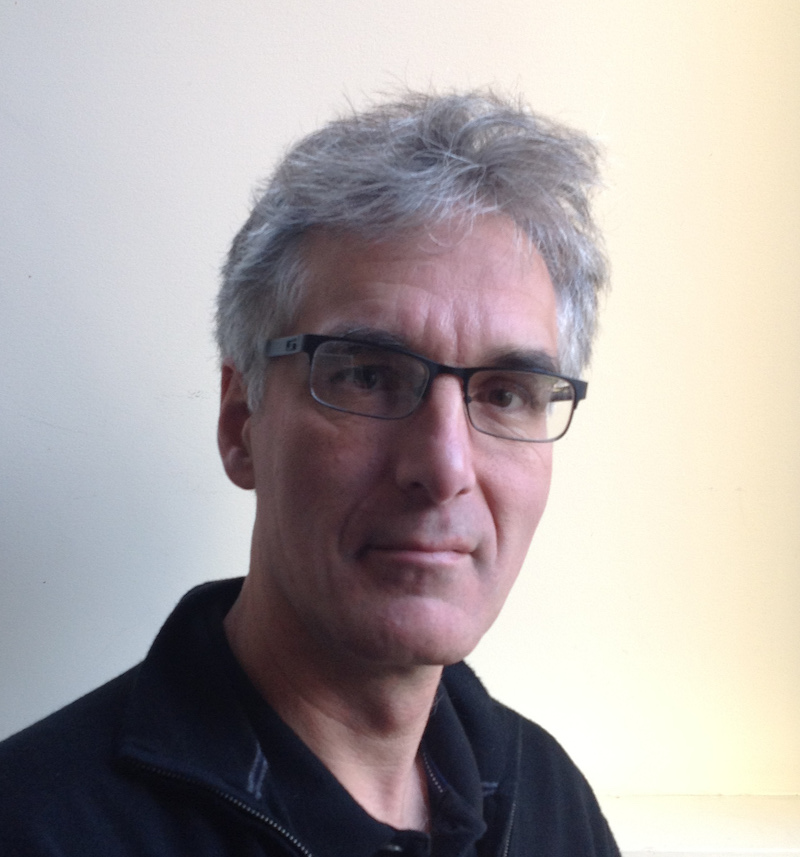 Digital media artist, & visual effects software developer
  Karl Sims is a digital media artist and visual effects software developer. His interactive works have been exhibited worldwide at the Pompidou Center, Ars Electronica, ICC Museum, DeCordova Museum, Boston Museum of Science, and at MIT. He founded GenArts, Inc. which created special effects software tools for the motion picture industry, and he also held positions at Thinking Machines Corporation, Optomystic, and Whitney/Demos Productions. Karl studied computer graphics at the MIT Media Lab, and Life Sciences as an undergraduate at MIT. He is the recipient of various awards including two Ars Electronica Golden Nicas, a MacArthur Fellowship Award, and an Emmy Award.
Computer Animation:
  Evolved Virtual Creatures, 1994, Demonstration of research results show simulated block creatures performing various evolved behaviors.
  Liquid Selves, 1992, Computer animation of human forms and faces, produced for Art Futura and "Memory Palace" at the World's Fair in Spain.
  Primordial Dance, 1991, Animated sequences created using automatic morphing between "evolved" images.
  Panspermia, 1990, Animation depicting a life cycle of an inter-galactic botanical life form.
Interactive Exhibits:
  Galápagos, 1997, Media installation allowing museum visitors to interactively evolve 3D animated forms. Exhibited at the ICC in Tokyo and the DeCordova Museum in Lincoln, Mass.
  Genetic Images, 1993, Allows the interactive evolution of abstract still images. Exhibited at the Centre Georges Pompidou in Paris, Ars Electronica in Linz, Austria, and the Interactive Media Festival in Los Angeles.
Technical Papers:
  "Evolving Virtual Creatures" K.Sims, Computer Graphics (Siggraph '94 Proceedings), July 1994, pp.15-22.
  "Evolving 3D Morphology and Behavior by Competition" K.Sims, Artificial Life IV Proceedings, ed.by Brooks & Maes, MIT Press, 1994, pp.28-39.
  "Artificial Evolution for Computer Graphics" K.Sims, Computer Graphics (Siggraph '91 proceedings), July 1991, pp.319-328.
  "Interactive Evolution of Dynamical Systems"
K.Sims, Towards a Practice of Autonomous Systems: Proceedings of the First European Conference on Artificial Life, MIT Press, 1992, pp.171-178.
  "Interactive Evolution of Equations for Procedural Models" K.Sims, The Visual Computer, Aug. 1993, pp.466-476.
  "Particle Animation and Rendering Using Data Parallel Computation" K.Sims, Computer Graphics (Siggraph '90 proceedings), Aug. 1990, pp.405-413.
  "Choreographed Image Flow" K.Sims, The Journal of Visualization and Computer Animation, Vol.3, 1992, pp.31-43.
  "Handwritten Character Classification Using Nearest Neighbor in Large Databases" S.Smith, M.Bourgoin, K.Sims, & H.Voorhees, Pattern Analysis and Machine Intelligence, Sept. 1994, pp.915-919.
Patents:
  "Random Array Sensing Devices," Patent #4574311, issued March 1986.
  "Method of Simulating Additional Processors in a SIMD Parallel Processor Array," Patent #4773038, issued September 1988.
  "Virtual Processor Techniques," Patent #4829403, issued May 1989.
  "System and Method for Creating and Evolving Directed Graphs," Patent #5511158, issued April 1996.
  "Computer System and Method for Generating and Mutating Objects by Iterative Evolution," Patent #6088510, issued July 2000.
  "Video Field Artifact Removal," Patent #6734916, issued May 2004.
  "Sharing of Presets for Visual Effects or other Computer-implemented Effects," Patent #8667016, issued March 2014.
  "Filters and Functions using Exponential Decay," Patent #9064299, issued June 2015.