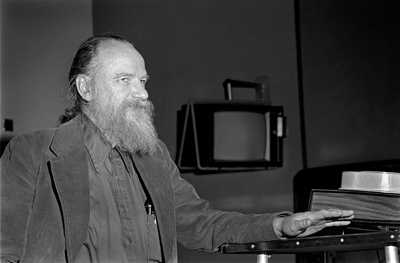 Ed Emshwiller (1925 –1990), was a notable for his pioneering experimental films.  In 1979, he produced Sunstone, a groundbreaking three-minute 3-D computer-generated video made at the New York Institute of Technology with Alvy Ray Smith. Now in the Museum of Modern Art's video collection, Sunstone was exhibited at SIGGRAPH 79, the 1981 Mill Valley Film Festival and other festivals. In 1979, it was shown on WNET's Video/Film Review, and a single Sunstone frame was used on the front cover of Fundamentals of Interactive Computer Graphics, published in 1982 by Addison-Wesley.
He was the founder of the CalArts Computer Animation Lab and served as dean of the School of Film/Video at the California Institute of Arts from 1979 to 1990. He also served as provost from 1981 through 1986.
In 1987, he created his electronic video opera, Hunger, for the 1987 Los Angeles Arts Festival, in partnership with composer Morton Subotnick. It was his last completed work, also presented in October 1989 at the Ars Electronica Festival in Linz, Austria.