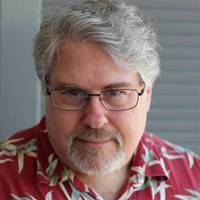 Larry has over two decades of experience as a leader and creative pioneer in the area of 3D/VR/AR/XR Design and Production. He has created and produced digital tools, content , games and networked 3D communities for entertainment and corporate clients such as AOL, SONY, CBS, ABC, FOX, Ubisoft, Wizards of the Coast, Verizon and AT&T.
He founded the NYVRMLSIG and the SFWEB3D, two of the early 3DVR professional groups and has spoken at industry events since the early 1990s. Highlights include the first 3DVR Seminars for Apple Computers NYC, multiple Siggraph and Macworld presentations and talks for the Web3D.org and Industry Clients, and he continues to moderate panels on XR at Digital Hollywood LA and other local XR events.
Products and projects Larry's created have been written about and profiled in periodicals such as WIRED, NEW MEDIA, and Macworld Magazines. In 2015 UploadVR profiled him as an original pioneer and expert in the XR Industry.