ACM SIGGRAPH's annual conference on all things related to comptuer graphics. This year's event is in Vancouver, CA. Early registration ends 20 June.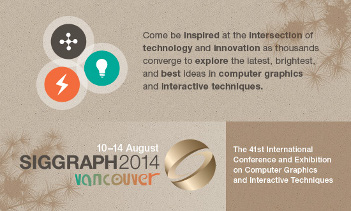 Description
This is not an event sponsored by the Los Angeles Professional Chapter of ACM SIGGRAPH.
Why spend five or six days away from the office, away from home, when you can improve your skills in your spare time on the web? If you're hearing those questions from your employer, or from friends and family, here are a few answers, plus some real quotes from recent SIGGRAPH attendee surveys (http://s2014.siggraph.org/attendees/reasons-to-attend):
Learning

At SIGGRAPH 2014, you will learn more in five days than you could at any other conference, or any combination of conferences, anywhere in the world. And you'll learn from the world's leading experts in computer graphics and interactive techniques.

Inspiration

With direct, real-time access to the latest theories, the coolest technologies, and the wisdom of thousands of colleagues and collaborators, you will return from SIGGRAPH 2014 creatively rejuvenated. This is your chance to get out of the office, away from your daily routine, and out from under your email and meet the best minds in the industry.

Expertise

From the Exhibition to the Production Sessions and from Technical Papers to Courses, when people are developing new ideas and emerging technologies, they present them at SIGGRAPH.

Engagement

Interactive is so important to us that it's part of our name. At SIGGRAPH 2014, you'll see, hear, and touch real-time demos by the most technically advanced minds in computer graphics and interactive techniques.

Exclusive

With its breadth of programs and events, only SIGGRAPH 2014 allows you to produce a conference experience that's exclusively yours. The balance of technical presentations with artistic and creative demonstrations is what really makes SIGGRAPH stand out.

Community

Connect with people from everywhere in the world who share your joy in the power of art and science. Interact with artists, researchers, educators, animators, new-comers, and pioneers in computer graphics and interactive techniques.
"Think of everything that has ever made you geek out and feel so passionate about something in your whole life and put it into one feeling... That, my friend, is the feeling you get when being at SIGGRAPH."
More information on the conference is at http://s2014.siggraph.org.