Concept Design and Production Design are essential to movies. This meeting will go over the process of modern concept design and production design by some of the talented artists in the industry. The artists will discuss and show the workflow of their art, and how the work they do has evolved.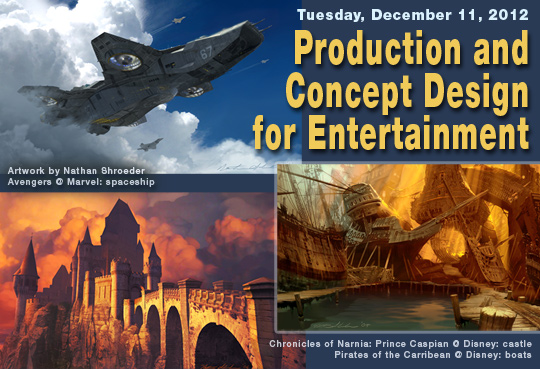 Schedule
6:30-7:30   Social Hour
- 6:30-7:00   Members only
- 7:00-7:30   Members and guests
7:30-7:45   Introductions
7:45-9:30   Presentations
Registration
All LA ACM SIGGRAPH will be admitted free of charge. Non-members of LA ACM SIGGRAPH are admitted for $20.00. New LA ACM SIGGRAPH members who sign up on-site, and pay the $40 annual membership fee (checks or cash only), do not have to pay the $20 admission fee.
Special Thanks
The Art Institute in Santa Monica, Mike Amron (producer), presenters, Sheri Ki Sun Burnham, Hans Gelpke, Susan Vanderhyden, Kim Van Hoven, the Executive Council, and all the volunteers.