Panel discussion with artists and producers from Digital Domain and Giant Studios about the CG work in Real Steel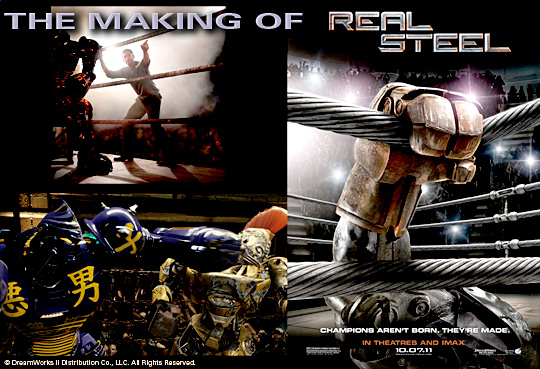 Description
The visceral robot boxing matches in "Real Steel" were conceived, planned and executed using an innovative process that gave the filmmakers unprecedented creative freedom and efficiency – by taking virtual production out of the studio and bringing it into real world settings. From robot animation and lighting to set extensions and arena crowds, the teams at Digital Domain and Giant Studios streamlined production from start to finish for maximum efficiency and photorealism. Animation supervisor Erik Gamache, digital environments supervisor Geoffrey Baumann, digital environments lead Justin van der Lek, digital lighting lead Blake Sweeney and previs supervisor Casey Schatz will illustrate the techniques used to realize director Shawn Levy's vision for this heartwarming story.
Schedule
6:30-7:30   Social Hour
- 6:30-7:00   Members only
- 7:00-7:30   Members and guests
7:30-7:45   Introductions
7:45-9:30   Panel Discussion
Registration
All LA ACM SIGGRAPH will be admitted free of charge. Non-members of LA ACM SIGGRAPH are admitted for $20.00. New LA ACM SIGGRAPH members who sign up on-site, and pay the $40 annual membership fee (checks or cash only), do not have to pay the $20 admission fee.
Special Thanks
Kim Van Hoven (Event Producer), Susan Vanderhyden of Arts Institute for helping to arrange the meeting space and the AV services, and Timothy Enstice of Digital Domain for coordinating the presenters from DD and Giant and for offering our membership this unique opportunity to hear about the virtual production pipeline used on Real Steel.