Q&A with the directors from Madagascar 3 followed by a screening of the movie. You MUST RSVP to attend this event.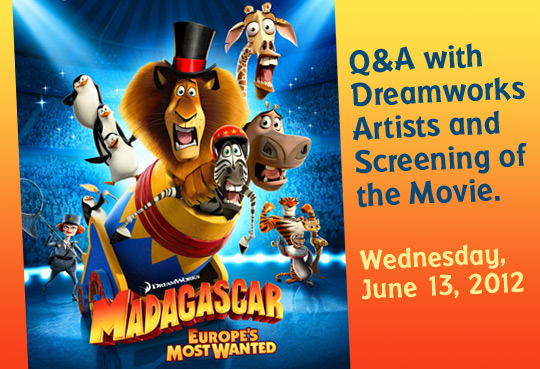 Description
Directors from Dreamworks will provide a short Q&A prior to a screening of "Madagascar - Europe's Most Wanted" at the theater at the Dreamworks Animation studio in Glendale. Seating is limited so arrive early.
Because this event is on the Dreamworks lot, you must RSVP for each person attending the event. Please send an email to events2012@la-siggraph.org with the subject RSVP. The body of the email needs to include the first and last name of each person attending the event. You will not be allowed into the parking lot or theater without an RSVP. Each person attending the event will need to bring picture identification to enter.
Reservations closed on Monday, 11 June 2012 at 12 Noon. Any request received after that will not be able to be accommodated. This was the time needed to process the RSVPs both within the chapter and at the studio so those people would be able to gain admission.
There will NOT be any food or beverage at this event. Please eat before you arrive.
Schedule
6:30-7:30   Social Hour - no food or beverage
- 6:30-7:00   Members only
- 7:00-7:30   Members and guests
7:30-7:45   Introductions
7:45-9:30   Screening
Registration
All LA ACM SIGGRAPH members plus one (1) guest per member will be admitted free of charge. Additional non-members of LA ACM SIGGRAPH are admitted for $20.00. New LA ACM SIGGRAPH members who sign up on-site, and pay the $40 annual membership fee (checks or cash only), do not have to pay the $20 admission fee.
You must RSVP (see above) to attend this event.
Special Thanks
Thanks to Dreamworks (Tim Garbutt and Marilyn Friedman), Leonard Daly (producer), Executive Council, and all of the volunteers.