The LA Chapter will be hosting a Social and MeetUp on Tuesday, 7 August in room 506 from 11:30-1:30 (during SIGGRAPH). Come meet you fellow members and chapter leaders and enjoy light refreshments on us.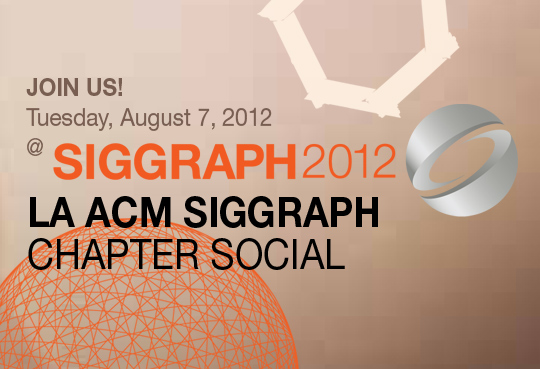 Description
The Los Angeles Professional Chapter of ACM SIGGRAPH is hosting a meet and greet for all chapter members, leaders, and anyone who is interested. You will have a chance to meet other members, discuss upcoming or past events, get our flyer for next season; and talk about computer graphics and interactive techniques with people in or nearby the Los Angeles area. All SIGGRAPH attendees are welcome.
There will be a special presentation by the L.A. ACM SIGGRAPH History Project (LASH) comprised of:
Joan Collins, Chair
Sharon Eisenberg
Sherry Steele
Steve Wright
Terrence Mason
Larry Steele
Diane Wright
The social will be in West Hall room 506 from 11:30-1:30 on Tuesday, 7 August. We will be serving light refreshments to help you through the mid-day.
Registration
All SIGGRAPH attendees will be admitted free of charge.
Special Thanks
LA ACM SIGGRAPH Executive Committee and all of our members.