Date Changed - Third Tuesday in April Park in the Van Ness structure: $ 5.00
Moving processor intensive tasks to the GPU: Rendering & Pre-computation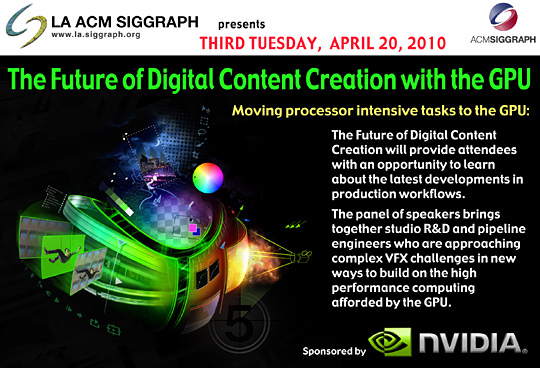 Description
The Future of Digital Content Creation with the GPU
Moving processor intensive tasks to the GPU:
NOTE: This is the 3rd Tuesday of April
The Future of Digital Content Creation will provide attendees with an opportunity to learn about the latest developments in production workflows.
See how the latest technologies and applications are taking advantage of the high performance computing power on the latest generation GPUs. NVIDIA will present how you can use highly optimized software modules including acceleration engine technology, CUDA, PhysX, SceniX, CgFX, CompleX, OptiX and iray. Featured speakers will include software providers who will discuss best practices for optimizing workflows and software. Come see how GPUs are transforming visually-rich and computationally-intensive applications such as video games, film production, broadcasting and industrial design.
This panel of speakers brings together studio R&D and pipeline engineers who are approaching complex VFX challenges in new ways to build on the high performance computing afforded by the GPU.
The resulting discussion would give attendees a snapshot of how these forward thinking companies are leveraging this technology to gain significant pipeline efficiencies and throughput speed increases.
Panelists to discuss:
Amazingly fluid, real-time video editing Adobe® Mercury Playback Engine and Quadro® CS5 -- Jacob Rosenberg; Bandito Brothers
Highly optimized software modules including acceleration engine technology, CUDA, PhysX, SceniX, CgFX, CompleX, OptiX and iray; -- Phil Miller, NVIDIA
ARRI Relativity and Pixel Strings engine demo Cinnafilm/ARRI -- Richard Antley, Director, Digital Intermediate Systems; ARRI, Inc.
Phasespace (motion capture) using Quadro FX4800.for LED mocap -- Tracy McSheery, VP/CTO; Phasespace ****MOCAP Demo on stage 6 to follow the presentations****
Schedule
6:30 - 7:30 PM - Social Hour & Hors d'oeuvres--IMPORTANT: Bring your I.D. for the Cash Bar.
7:30 - 9:30 PM - Program Presentation
Registration
All LA ACM SIGGRAPH will be admitted free of charge. Non-members of LA ACM SIGGRAPH are admitted for $20.00. New LA ACM SIGGRAPH members who sign up on-site, and pay the $40 annual membership fee (checks or cash only), do not have to pay the $20 admission fee.
Special Thanks
Laura Dohrmann, Dominck Spina, & Phil Miller, NVIDIA; Jacob Rosenberg, BanditoBros; Richard Antley, ARRI; Phasespace; David Haines, Raleigh Studios; Joan Collins Carey and the entire Executive Council and volunteers.
Laura Dohrmann & Dominck Spina of NVIDIA, Joan Collins Carey
& the entire Executive Council.