Reception: NOVEMBER 9, 2008, Sunday 6 - 9 pm, with Performance by MLuM, 8 - 8:30 pm Exhibition includes works from the ACMSIGGRAPH Traveling Art Show, a selection of ACM SIGGRAPH Video Reviews & SIGGRAPH 2007 Computer Animation Festival with additional works by internationally recognized artists.
Los Angeles Municipal Art Gallery, Barnsdall Art Park. See http://DigitalEyes2008.org for additional information.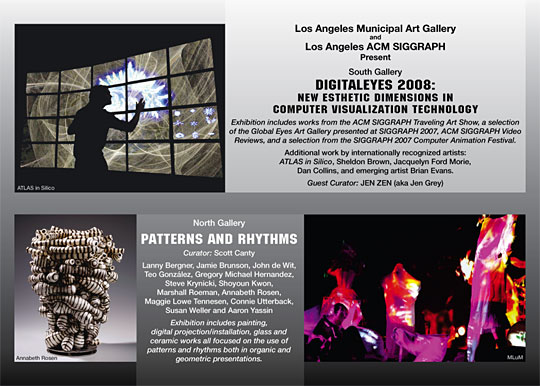 Saturday, 8 November 2008
Description
The DIGITAL EYES 2008-2009 Exhibition at Barnsdall Art Park has been in the planning stages for more than a year! LA ACM SIGGRAPH's own Jen Grey, is the Guest Curator at The Los Angeles Municipal Art Gallery of this awesome lineup of exhibits and live events focusing on Computer Graphics, Animation, Performance Art, and Music.
As result of this great event which lasts from November through January, we will NOT have our monthly Second Tuesday meeting as usual, to instead bring you this invitation to attend the Opening Reception on Sunday Evening, November 9th from 6 - 9 pm.
It's FREE! Bring all the friends you'd like to impress or inspire. What a great place to learn and keep up with it all! Featuring the SIGGRAPH '07 Traveling Art Show, and The latest SIGGRAPH 2008 Computer Animation Festival screenings, including new and magically bizarre installations, and music performances on a hill overlooking Los Angeles -- in a world famous architectural setting… A truly magical vibe will convene for the Opening Reception on the evening of Nov. 9th!
Don't miss being alive at this great moment in time. The sunset views at Barnsdall are spectacular, so get there early and get some of the great food planned for the event. Beer & Wine will be available for purchase.
FREE SPECIAL RECEPTION EVENTS:
Happening: "Sleeper Cell" by The cellUlights 7 pm
Premiere Performance: "Mascara Lotus", a digital 'popopera' by MLuM 8 - 8:30 pm
Hosted by the Los Angeles Municipal Art Gallery Associates
MORE FREE EVENTS:
CONVERSATIONS WITH ARTISTS SERIES:
Saturday, November 15, 2 pm: Atlas in Silico Collaborators, Sheldon Brown
Friday, December 5, 7 pm: Dan Collins, Brian W. Evans
Saturday, January 10, 2 pm: Jacquelyn Ford Morie, Marco Schindelmann, Snezana Petrovic, and MLuM Mini-Improv
FAMILY ANIMATION WORKSHOP:
Sunday Dec. 14, 1- 4 pm: 'Acting for Animation' and 'Animation Storytelling' with Aubry Mintz
Visit the DigitalEyes web site for more detailed information on the Exhibition and Special Events: http://DigitalEyes2008.org/
Registration
This event is FREE to and Open to the Public
You can become a Member of LA ACM SIGGRAPH at the Door for $40 annual membership fee (check or cash only)
Special Thanks
Jen Grey: Guest Curator DigitalEyes 2008-2009
Leonard Daly:Technical Consultant and Webmaster
And all of the Volunteer Members of the Executive Council of the Los Angeles Chapter
The DIGITALEYES exhibition is jointly sponsored by
Los Angeles ACM SIGGRAPH
ACM SIGGRAPH
The Department of Cultural Affairs, City of Los Angeles
The Los Angeles Municipal Art Gallery
The Los Angeles Municipal Art Gallery Associates
CRE Computer Rentals.com
In cooperation with
Lina Yamaguchi, Chair, ACM SIGGRAPH Traveling Art Show
Paul Debevec, Chair, SIGGRAPH 2007 Computer Animation Festival