Join us for a screening of the films selected for this year's SIGGRAPH Computer Animation Festival.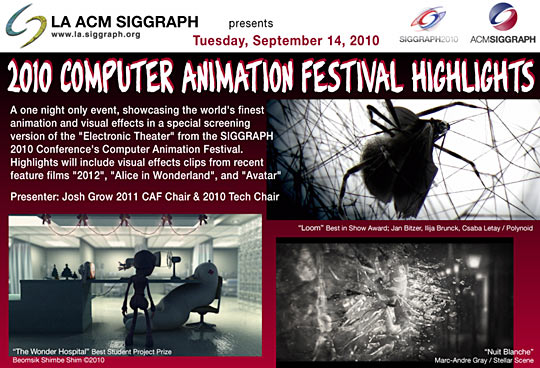 Monday, 13 September 2010
Description
Join us as we reprise the SIGGRAPH 2010 "Electronic Theater" in a special screening from the SIGGRAPH 2010 Conference's "Computer Animation Festival". This special edit reel of feature work, art, science, broadcast and games is brought to us by Computer Animation Festival Chair, Isaac V. Kerlow and Technical Director Josh Grow. Josh Grow will be present to provide the opening remarks.
Join us as we welcome back the Electronic Theater, fully integrated back into the Computer Animation Festival by popular demand for 2010! In addition to the best computer graphics of the year representing visual effects clips from recent feature films "2012", "Alice in Wonderland", and quot;Avatar", we will see the latest in ground-breaking short animated and visual effects films.
Prize winners this year represent the far corners of the globe such as "Poppy" the "Jury Award Winner" from New Zealand offering a touching human story about soldiers caught behind enemy lines in World War I. In the "Best Student Project Prize" we enter "The Wonder Hospital" from California Institute of the Arts, where a young girl's view of beauty is changed. "Loom" from Germany's Filmakademie Baden-Wurttemberg Institute of Animation won the "Best of Show" award with a compelling look at the world of a moth. The Computer Animation Festivals status as a Film Festival opens the door for "Loom" to be eligible for consideration of an Academy Award nomination.
Schedule
6:30 PM - 7:30 PM   Social Hour
7:30 PM - 10:00 PM (approximate)   Program Presentation
Registration
All LA ACM SIGGRAPH will be admitted free of charge. Non-members of LA ACM SIGGRAPH are admitted for $20.00. New LA ACM SIGGRAPH members who sign up on-site, and pay the $40 annual membership fee (checks or cash only), do not have to pay the $20 admission fee.
Special Thanks
We wish to thank Carlye Archibecque, Kim Van Hoven, the ACM SIGGRAPH Computer Animation Festival Committee, Los Angeles Valley College, Sheriann Ki Sun Burnham, Leonard Daly, Diana Lee, Mikki Rose, Kristal Kamholz and the Executive Council and all the Volunteers.