Free holiday party for LA ACM SIGGRAPH sponsored by Motion Media.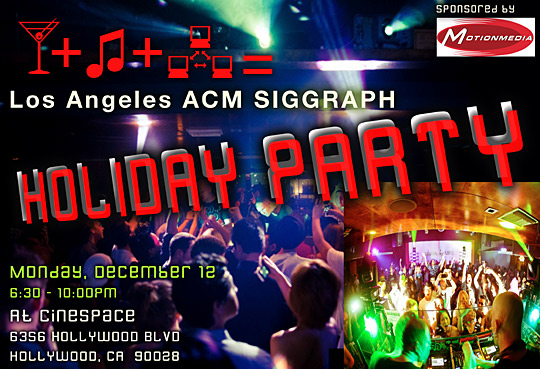 Description
The Los Angeles Professional Chapter of ACM SIGGRAPH and Motion Media invite you to LA ACM SIGGRAPH Holiday Party
Monday Dec 12
6:30 pm -> 10pm
This years LA ACM SIGGRAPH December Holiday event celebrates our CG community with an opportunity to mix and mingle all evening with a backdrop of CG artistry. Two large rooms will be projecting the latest in Computer-Graphic-visuals, as DJ's pump the music. "Yule" want to leave your smart phone on to help the DJ build an interactive play list, using the coolest new technology in shared music listening; turntablefm.com. http://turntable.fm/
Sponsored by Motion Media.
Located in beautiful Santa Monica, Motion Media, LLC is a value added reseller of 3D animation, visual fx, graphics, video editing, compositing, design software and hardware solutions for the film, tv, games, architectural and design visualization markets. Industry leaders such as Autodesk, AJA, HP, Adobe, and The Foundry are just a few of the name brands in our portfolio of proven, professional grade, product offerings. http://www.motionmedia.com
Schedule
6:30-7:00   Members only
7:00-9:30   Members and guests
Event ends by 10PM.
Registration
We've decided to open up general admission to the CG Community at large for free! Let's Party!
Admittance is free for members and visitors.
Priority entrance for our Members until 7pm
All Visitors are welcome.
All LA ACM SIGGRAPH and MOTION MEDIA personal will be issued a limited number of vouchers for free beverages. Cinespace will also be running Cash Bars, with Beer, Wine and Soft Drinks. Food and Water will be provided at no charge. ALL I.D's will be checked for purchases of alcohol!!
Special Thanks
Motion Media, Craig X-ray Haleprin, Sharon Eisenberg, Joan Collins, Diana Lee, Sheriann Ki Sun Burnham, Kimberly Roussel, and the Executive Council and all of the volunteers.