The Traveling Electronic Theater from SIGGRAPH 2017 is coming to our chapter in October. This reel comprises the best shorts from the Computer Animation Festival.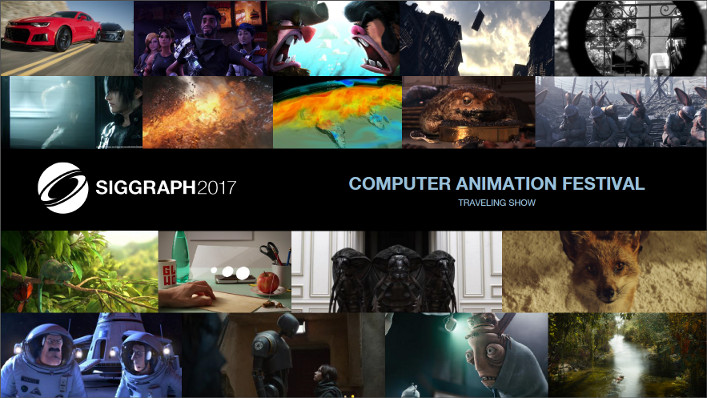 Description
The SIGGRAPH Computer Animation Festival is the leading annual festival for the world's most innovative, accomplished, and amazing digital film and video creators. An internationally recognized jury receives hundreds of submissions and presents the best work of the year in the Computer Animation Festival. Selections include outstanding achievements in animated feature and short films, scientific visualization, visual effects, real-time graphics, game excerpts, and much more!
The Computer Animation Festival is recognized by the Academy of Motion Picture Arts and Sciences as a qualifying festival. Since 1999, several works originally presented in the Computer Animation Festival have been nominated for or have received a Best Animated Short Academy Award.
By special arrangement with ACM SIGGRAPH, we will be screening the SIGGRAPH 2017 Traveling Electronic Theater. This is the best-of from the Computer Animation Festival.
Some content in the CAF is mature, and Parents are strongly cautioned, as some material may not be suitable for children. If a child is wearable meaning they do not walk, the parent must have the child in a sugglie, backpack, etc. The child cannot be carried nor can they be in a stroller. If the child becomes fussy the parent must leave immediately or you will have to ask them to leave quietly. For problems with uncooperative parents, speak with any of the Executive Council members present.
We will also remember Diana Lee for her contributions to L.A. SIGGRAPH with a special program before the screening.
Schedule
6:30-7:30   Social Hour
- 6:30-7:00   Members only
- 7:00-7:30   Members and guests
7:30-7:45   Introductions
7:45-9:30   Screening
Registration
All LA ACM SIGGRAPH will be admitted free of charge. Non-members of LA ACM SIGGRAPH are admitted for $20.00. New LA ACM SIGGRAPH members who sign up on-site, and pay the $40 annual membership fee, do not have to pay the $20 admission fee. The chapter accepts checks, cash, or credit cards (Mastercard or Visa only) for all dues or fees.
Special Thanks
SIGGRAPH 2017 Computer Animation Festival Committee, Otis College of Art and Design, Sheri Ki Sun Burnham, Mike Amron, the Executive Council, and all the volunteers.